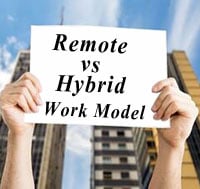 Employee Work Schedules - Hybrid or Remote - Defined

With Hybrid and Remote Work being talked about so much, it's helpful to clearly understand the difference, because today, it's happening everywhere.
According to a recent Forrester research report, about 70% of companies will be adopting flexible hybrid-work schedules this year. They are expecting these organizations to allow their employees to spend at least two days working remotely.
This report also acknowledges that allowing remote and even a hybrid work schedule is not possible for every organization or job.
So what exactly is Hybrid vs Remote work? What's the difference?