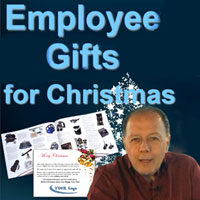 Employees Gifts for Christmas
Giving your employees company Christmas gifts sends them an important message that each member of your organization is important, valued and appreciated!
To make the largest impact with your gift, you want to give employees a something they want, and will actually use. The best way to do that, is to give a gift they can choose for themselves!
Click below to see a short video showing how easy it is to give each employee the perfect Christmas gift! One they can select.
Take the guess-work out of your Employee Holiday Gifts. Fits every Budget!