Gourmet Branded Business Food Gifts

Promote your Brand with food gifts from Maple Ridge Farms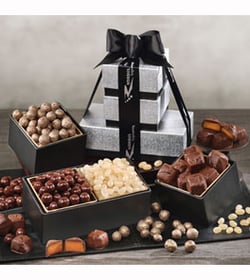 (1) Fresher Products - Gifts are packed-to-order just before shipping. Not made up months before.
(2) Imprinted with your logo - The first thing recipients see is your logo, not a retail brand name!
(3) Quality Products - The finest premium cheeses, chocolates, fresh roasted nuts and other gourmet treats.
(4) Shipping Options - Bulk ship to one or multiple locations, or individually ship to recipients.
(5) Note Cards available - Individual shipments can include your business card or a note card.
(6) Prompt Personal Service - we will take care of the details to make your gift program a success!
SYG has partnered with Maple Ridge Farms, the leader in Gourmet Branded food gift baskets and packages for over 40 years. We make Food Gifts "easy" with personal service, quality products, logo branding, and multiple shipping options, all at the best prices. There is no risk with Maple Ridge Farm's Food Gifts as they are backed with a 100% money-back guarantee!
---
SYGfoodgifts™ is your #1 Source for Food Gifts
---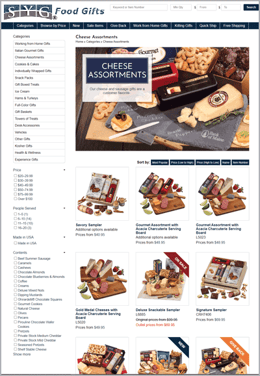 Please Note:

Our food products catalog includes details and pricing for each food package.
While browsing, please note the item numbers you are considering.
Then contact us by using the form below, or call. We will promptly provide a quote reflecting everything needed with your order, at the best possible pricing.
See the Wide Range of Food Gifts from Maple Ridge Farms! - some of the categories you will find:
- Working from Home Gifts
- Italian Gourmet Gifts
- Cheese Assortments
- Cookies & Cakes
- Individually Wrapped Gifts
- Snack Packs
- Gift Boxed Treats
- Hams & Turkeys
- Gift Baskets
- Sale Items
Note-Cards: For extra convenience and branding, we are happy to provide a variety of note cards that can be enclosed with your gifts.
Your message (and logo, if you wish) is printed on the inside of the cards. (contact us for details)



---





---

If you are planning Food Gifts, call us first!

Call today, or use the form below to start the conversation.

Use the form below to get started! Tell us about your Food Gift interests, or specific items in our catalog, plus any special requirements, such as Quantity, need-by dates, budget, and whether you need items bulk shipped to you, or individually sent.