A Corporate Anniversary program may be referring to a:
Corporate Anniversary Program marking a significant milestone in the company's history and years of operation, such as its 10th, 25th, 50th, or 100th year of operation. As part of the organization's celebration, it's common to give gifts to employees and/or customers as a token of appreciation, and to recognize their loyalty and support. (See details for Celebrating Business Anniversaries)

Employee Service Anniversary Program. In this program, recognition is provided and gifts are given to employees who have achieved a significant length of service, such as 1, 3, 5, 10, 15, etc. years with the company. (Details for this program follows, below)
---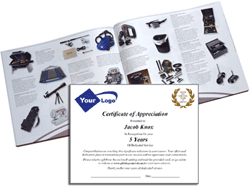 At Select-Your-Gift, we understand the importance of recognizing and celebrating your employees' years of service. Studies have shown that organizations that provide special recognition of service anniversaries experience increased employee morale, engagement, productivity, and commitment.
Our Service Recognition Programs give employees a Choice of their gift. We offer two Gift-of-Choice solutions: Service Recognition Packets and a virtual (emailed) solution, so you can choose the option that best suits your company. With many available options, we can tailor a gift-of-choice solution that's just right for you.
We can help you get started - using our Service Award Presentation Packets, or our VIRTUAL (emailed) solution.
We make it easy to show your appreciation for your valued staff. Our tier-based, service award packages can be tailored for each of your service anniversaries, so they fit every program's budget. The perfect service recognition gifts for your employees, gives them a choice of their own gift.
Visit our Service Award details page to see all that's included in each recognition package. Let us help you create a culture of recognition and show your employees how much you value their service!

See: Service Recognition package details, levels, prices and what's included

---
When planning your Corporate Anniversary Recognition program, or updating an existing program, we want you to have the most information possible. We prepared an comprehensive eBook: "The Guide to Starting your Employee Service Recognition Program" and it's yours free when you contact us for more information about starting your program.
Select-Your-Gift's provides you with fast personal assistance, customizing options, no contract required, and no minimum order quantities. Plus all service award gifts are backed by our 100% employee satisfaction guarantee.
We make service recognition easy!
---
Get started today!
Call now to talk to a Select-Your-Gift recognition specialist
call 630-954-1287 (M-F, 8:30 am - 5:00 pm CST),
or
Use the form below to get a FREE information package.