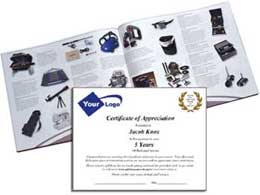 Service Anniversary Awards - in Personalized Presentation Packets from Select-Your-Gift provide an easy-to-administer and easy-to-use corporate anniversary recognition program designed to show appreciation for your employees' service and achievements.

Studies have shown that service recognition programs can have a significant impact on employee engagement and loyalty, by helping employees feel their service and accomplishments are appreciated.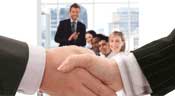 Corporate Anniversary Award Programs are changing: The changing requirements of today's workforce, especially with Millennials, is causing more companies to begin recognizing earlier service milestones. These include recognizing the completion of an on-boarding process, or at the end of a probationary period, and to recognize 1 and 3 years of service.
Earlier Service Recognition, together with recognition of the traditional service milestones (beginning at 5-years), provide great opportunities to show your valued employees that you recognize and appreciate their service and what they contribute to your organization.
Corporate Service Anniversary Award Programs, as well as all other employee recognition helps to boost morale and engagement levels, resulting in more loyalty and higher productivity.

See: Service Recognition package details, levels, prices and what's included
When planning your Corporate Anniversary Recognition program, or updating an existing program, we want you to have the most information possible. So we prepared an eBook: "Manager's Guide to Service Recognition" and it's yours free when you contact us for more information about starting your program.


Get started today! Contact us for details and get a free sample employee recognition packet.
---
Presenting Anniversary Awards: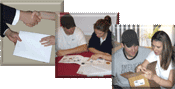 The actual presentation of Service Anniversary Recognition to the employee, is a very important part of the recognition program.

When possible, present service recognition to the employee in front their peers. These events provide management with excellent opportunities to highlight an employee's recent contributions, while demonstrating and promoting your company's values.
When the employee receives a Corporate Service Award Packet, they'll be able to select a gift from the provided catalog, or online. The online version shows almost twice as many items. The selected gift will be quickly sent directly to the employee's home within the lower 48 US.
---
Select-Your-Gift offers an easy to start, and easy to administer program that provides you with fast personal assistance, customized award presentation packets, no contract required, and no minimum order quantities. Plus all service award gifts are backed by our 100% employee satisfaction guarantee.
We make service recognition easy!
---
Get started today!
Call now to talk to a Select-Your-Gift recognition specialist
call 630-954-1287 (M-F, 8:30 am - 5:00 pm CST),
or
Use the form below to get a FREE information package.