Motivate and Increase Sales with this new Contest design.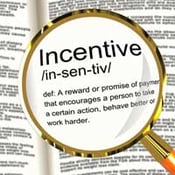 With a few small changes to the structure of your next sales incentive program, you can make your next sales contest a win-win program, instead of a win-lose program - where only the same top people win, and everyone else will lose.
A Sales Manager's primary goal is to drive sales to achieve the organizations objectives. To get the best results, you must get everyone on your team involved.
Here's a way you can get every person on your team motivated to put in that extra effort! Change you Sales Contests to reward every person who exceeds their own PERSONAL past sales performance. You will be amazed at how this small change will increase morale, and performance!
For your next sales incentive program, try using the ideas described in our free
Sales Contest Design eBook
, as an alternative to the usual "winner takes all" format.
For a contest to be successful, it must:

Require an increased effort, by each person, which leads to increasing rewards
Provide individual, attainable, motivation - using great rewards, the "carrot"
Provide ALL participants with an opportunity to win something.

Get started Now! Contact Us for
Contest Awards information, and get the free eBook.
When Sales Contests are designed with rewards based on how much each person exceeds their own individual goals, then EVERYONE could win something! You can't lose. If there is no increase, there is no reward.
The best sales incentive programs will improve sales performance AND enhance employee Morale! When the morale of your sales team is improved, they will sell more, be more engaged, do their jobs better, and will stay longer with your company.
For your Sales Contest Awards, provide your winners with rewards they want. Let each person choose their own gift! Select-Your-Gift makes it simple with our tier-based award collections. (see details)
---
Need great AWARDS for your sales contests?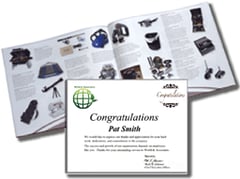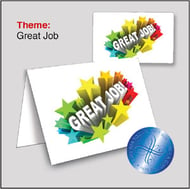 Select the Awards that best fit your needs. Choose from two Gift-of-Choice options:
Spot Recognition Awards, or
Award Presentation Packets
Both are designed to fit
every recognition budget!
See Sales Recognition Awards for details.
---
Get started today!
Call now to talk to a Recognition Specialist
call 630-954-1287 (M-F, 8:30 am - 5:00 pm CST),
or

Use the form below to request FREE information.