Service Award Program Gifts - How to Order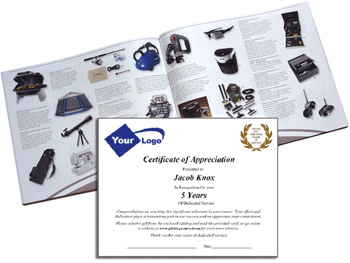 The following easy to use forms are provided here for your convenience. Please call if you have special requirements, or need assistance for your Employee Years of Service Awards Program.
The Easy-to-use Order Form (downloadable below): can be completed right on your computer.
Order Form: Use this Interactive PDF - downloadable form to order Service Anniversary Gifts. It can be filled out on your computer, then printed or emailed by just clicking a button on the top of the form. Be sure to save a copy of the form on your computer's desktop for easy re-orders.

Paying by Credit Card: Use this form when paying by credit card for service awards gifts. It's only needed when initially providing your charge card information or if something has changed. It is not normally needed for re-orders.

Credit Application: Please use this form if you want us to bill you for service awards gifts. This is a great option when frequently ordering. This form is required with your first order (and only if you are requesting credit). Information will be held in the strictest confidence.
Note: Instead of this form, you can provide your own credit information form, if available.
---
Please call with any questions, or if you need assistance with your order of service awards gifts.

In the Special-Instructions section of your Service Awards Gift Order form, please tell us if you have any special shipping requirements and the date needed for your service anniversary gifts or awards.

Sending your Order: Please Email or Print/FAX your Order form. Be sure to include your Credit Card form, or Credit-Info-form with first order of service anniversary gifts or awards.
What to expect after placing your order:
We will call or email to confirm receipt of your order.

When your order ships, you will receive an email along with a UPS tracking number

You will receive your order within 5 to 7 business days, or sooner if rush shipment was requested.


If you don't already have our information package, Request it now!
We'll send FREE information and a sample Employee Awards Packet
For all your recognition needs, from Corporate Anniversary Awards to Spot Recognition Cards, Select-Your-Gift has solutions to help.