Select-Your-Gift provides Service Recognition Programs and Gift-of-Choice Awards to companies for their employees.
We offer many options for awards to help your organization implement a recognition solution ranging from a simple service awards program, to a comprehensive points-based recognition program that includes automated Service Recognition functions.
Show your appreciation and celebrate these important milestones with an award of their choice, presented along with a personalize award certificate. Select-Your-Gift has solutions to meet your needs and budget.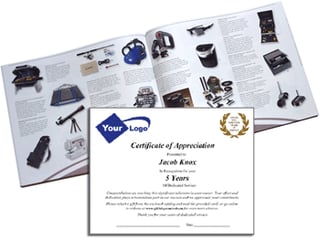 For help getting started, please call us. We are here to help! We have many service recognition options to help improve staff retention, including: Award Packets or Virtual-emailed gifts for: on-boarding gifts, early service recognition, as well as regular service milestones such as 5 years of service, plus retirement awards.

The following easy to use forms are provided here for your convenience when ordering Award Packets for your employee service award program.

Please call if you have special requirements, need a personalized years of service award certificate or for details about our enhanced presentation packages - which are great for a more formal presentation, or for any assistance when getting started with Service Award of Choice packets.
The Easy-to-use Order Form (interactive PDF): can be completed right on your computer.
Order Form

:

Note: This PDF Form must be saved to your computer and then re-opened to be fully functional. You can use this Interactive PDF fillable-form to order Service Anniversary Award Packets. Save this PDF on your desktop for ordering convenience. When re-opened from your PC, this Order-Form can be filled out. When ready, either print or email the completed form by just clicking a button on the top of the form. Save your completed PDF form on your PC to make re-ordering easy!
Paying by Credit Card: Use this form when charging your order for Employee Service Awards to your credit card. It's only needed when initially providing or changing your charge card information. It is not normally needed for re-orders.
Alternately, simply call us with your Credit-card information when placing your order.
Credit Application: Please use this form if you want us to bill you for your service award order. This form is only required with your first order (and only if requesting us to bill you). Information will be held in the strictest confidence.
Note: Instead of this form, you can provide us with your account information using your own credit setup form, if available.
---
Using the above ORDER Form, follow these
easy steps to complete and place your Service Recognition order:
Award Packet Quantities - Indicate the quantity needed for each Service Award Package Level
Choose your Years-of-Service themed stationery and matching seals. Note: Stationery is normally provided blank, ready for printing service recognition certificates. One blank, themed sheet is included with each packet. Click to see images/samples of each stationery sheet and seals

Optional custom printing of Service Award certificates: Optionally, we can print your Recognition message on the provided stationery. Please call for details on custom printing, including pricing and minimums.
Optional Personalization: If you want us to personalize Service Award certificates with each employee's name, please email your list of names, including the milestone year and award level for each person, in an excel file to ensure accuracy. The employee's names must be submitted exactly as you want them printed on the certificates. Please contact us for excel file format, pricing and minimums.

Consider other Packet Options: Be sure to review all Service Award Customization options, including stationery options, printing options, certificate holders, and boxed framed certificate packages.
---
Completing your order:
Date Needed: In the Special-Instructions section of your Service Award Order form, please tell us if you have any special shipping requirements and the date needed for your service award packets.

Sending your Order: Please Email or Print/FAX the Order form. Include preferred payment information: Credit Card form, or Credit-Application-form with first order.

Please call with any questions or for help with your Service Award order. Your dedicated recognition specialist is always available to provide any assistance needed.

What to expect after placing your order:
We will call or email to confirm receipt of your order.

When your order ships, you will receive an email along with a UPS tracking number

You will receive your order within 5 to 7 business days, or sooner if rush shipment was requested.

Need help calculating Employee Milestones? Get our FREE Length of Service Excel Calculator!
---