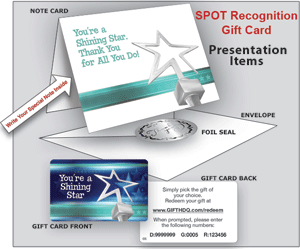 Select-Your-Gift provides an easy solution to help companies implement a SPOT recognition program.
With Spot Award Packets on hand, it's easy for managers to instantly show employees they noticed and appreciated their outstanding actions, efforts or important contributions.
After receiving a Spot Recognition award packet, it can be immediately redeemed online - for a gift of their choice. Employees select their award from a large online catalog, and it will be sent directly to their homes. Many tier-level awards catalog packages are available.
Recognize and reward exceptional employee performance,
instantly - on the spot!
Extraordinary achievements and great work should be recognized quickly! Managers should keep a supply of various Spot Reward packs on-hand for their team. For the greatest motivational impact, be prepared to recognize and reward desired action as soon as possible.


A manager's personal note to the employee (using the provided note card) provides recognition, encouragement, and motivation to repeat the actions.


Spot Recognition will have a positive impact on employee morale, and as part of your culture of recognition, will help improve the entire employee experience.


Spot Recognition Ideas:
Recognize a particular effort that goes above and beyond an employee's normal performance expectations of their job
Recognize a specific desired behavior, or accomplishment of an employee.
Recognize when employees go that extra mile to provide help to a peer, or extra assistance to a customer.
Recognize any employee activity that you want to encourage and have repeated.
For more ideas, see these pre-designed Spot Recognition themes
---
Everything's included for one low price per package level. The following is included:
Presentation materials: Each package includes a themed Spot Award Card and matching Note Card, a presentation envelope with a matching, themed envelope-closing-seal.
A Gift of their Choice: Employees can instantly redeem online, selecting from a large assortment of popular life-style products (from an online tier-level catalog). See all price levels and the gift selection in each.
Redemption Information: Is printed on each Spot Recognition card, along with it's unique redemption number.
The Gift & Shipping: The tier-level price includes the selected gift, and shipping of the gift to the employee (within the lower 48 US)
No expiration of Spot Recognition Packets, and the online gift selections are ALWAYS current.
Our guarantee: Employee gifts are backed by our 100% satisfaction guarantee
Redemption Assistance: Toll-free support is included for any employees who may need help ordering or for status questions
Program Status Reports: Administrators can track the status of their spot recognition program with redemption-status reports. They're available upon request as Excel files

---

The following table shows Tier-Prices for each Spot Recognition Award Packet.