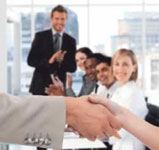 Select-Your-Gift can help your organization celebrate employee milestones, with memorable Service Award Packets, with a Gift of their Choice. They are easy to use, and can be tailored for each of your service anniversaries.

Years of Service Award Packets include many customization options, with No minimum order, and No contracts to sign.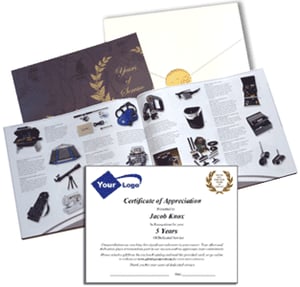 We provide prompt award fulfillment and shipment with 100% employee satisfaction guaranteed.

With many available award-package levels, you can control your budget by selecting a package level for each of your service milestones, making them also perfect for on-boarding and retirement gifts.



Get started Now! Contact us for details and we'll send you a free sample award packet.
---
With each Employee Service Award, the following is included at each award level:
Gift Catalog: A Gift-of-Choice Awards Catalog (for the level you selected) offering a large assortment of popular life-style products. (see all levels)
Catalog Covers: Your choice of Service Awards Catalog Covers.
Redemption Information: Includes Online redemption info, plus a Postage-paid mail-in redemption card.
Award Certificates: Your choice of themed stationery for printing recognition certificates (see choices). Optional custom printing and personalization is available.
Inner-Jacket: Specially designed inner-jacket contains the awards catalog
Closing-seals for inner-jackets (see choices of seals)
Presentation Envelope: Large white "outer" mailable envelope, holds all award presentation materials
Expanded Online Selection: When award is redeemed online, employee will see almost twice as many items as shown in the included catalog.
The Gift & Shipping: The selected gift is included, and includes shipping of the gift to the employee (within the lower 48 US)
No expiration of award-packets (online selections are ALWAYS current)
Our guarantee: Employee gifts are backed by our 100% satisfaction guarantee
Assistance: Toll-free support is included for employee assistance with ordering or status questions
Status Reports: Track your recognition program with Management redemption-status reports. Available upon request as Excel files
---
Customizing your Service Award Packets
Select-Your-Gift makes it easy to customize your employee's award packets with many options to make them as unique as your organization.
Your choice of Service Award stationery to print recognition certificates. These can be personalized with your company's logo, the employee's name, and your message. Also see the Enhanced Certificate Holders and Frame options. See all customization options
---
The following table shows the prices for each Tier-Level Service Award Package. Everything is included at each package-price level. Click a level below to browse the awards in each.
Pricing for
each Service Award
package level
---