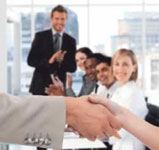 The Value of Employee Service Award Programs: According to a recent study, more than 80% of all organizations include the recognition of length of service as one of their key Employee Recognition Programs. A years of service award program gives management yet another opportunity to provide public recognition to their team for their hard work and dedication.
ALL workplace recognition motivates employees! It provides a sense of accomplishment and makes employees feel valued for their work. The secret to motivating employees, is Continual Recognition. In companies implementing a culture of recognition, reflected in everything they do, productivity increases, engagement levels rise, loyalty improves, and employee turnover is reduced. (see these Employee Recognition Ideas)
The number one challenge for Human Resources is retention, and a company's recognition practices can have a positive impact on retention. An article from the FORBES site, states that companies with a culture of recognition, had an almost 30% lower voluntary turnover rate in their workplace!
Effective Employee Recognition improves the entire employee experience and morale of your staff, which will improve employee engagement. And when your Recognition programs are linked to your core values they will produce better results, since they encourage desired behaviors which are aligned your values.
---

Select-Your-Gift can help your organization with formal recognition of employee milestones, using memorable Service Award Packets that include a catalog for a Gift of their Choice. They are easy to order, and can be tailored for each of your service anniversaries.

---
Years of Service Awards for Employees include many customization options, with No minimum orders, and No contracts to sign. Order as many as needed, when they're needed!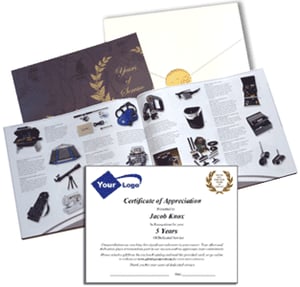 We provide prompt fulfillment and shipment of the selected gifts, with 100% employee satisfaction guaranteed.

With many available tier-level award packages, you can control your budget by selecting a tier-level for each of your service milestones, making them also perfect for on-boarding gifts, 1-year, 3-year, traditional 5-year increments, and for retirement gifts.



Get started Now! Contact us for details and we'll send you a free sample award packet.

Need help calculating Employee Milestones?
Get our FREE - - Years of Service Calculator!
Download this free Excel tool - Length of Service Calulator
---
With each Service Award Milestone Recognition Packet, the following is included at each tier-level:
Gift Catalog: A Gift-of-Choice Catalog (for the level you select) offering a large assortment of popular life-style products. (see all tier levels)
Catalog Covers: Your choice of Gift Catalog Covers.
Redemption Information: Includes Online redemption information, plus a Postage-paid mail-in redemption card.
Recognition Certificates: Your choice of many themed stationery options for printing recognition certificates (see choices). Optional custom printing and personalization is available.
Inner-Jacket: Specially designed inner-jacket contains the gift catalog
Closing-seals for inner-jackets (see choices of seals)
Presentation Envelope: Large white "outer" mailable envelope, holds all presentation materials
Expanded Online Selection: When the employee redeems online, they will see almost twice as many items as shown in the included catalog.
The Gift & Shipping: The selected gift is included, and includes shipping of the gift to the employee (within the lower 48 US)
No expiration of award-packets (online selections are ALWAYS current)
Our guarantee: Employee gifts are backed by our 100% satisfaction guarantee
Assistance: Toll-free support is included for employee assistance with ordering or status questions
Status Reports: Track your recognition program with management redemption-status reports - Excel files.
---
Customizing your Service Recognition Packets
Select-Your-Gift makes it easy to customize your employee's packets with many options to make them as unique as your organization.
Your choice of stationery to print your Service Recognition Certificates. These can be personalized with your company's logo, the employee's name, and your message. Also see the Enhanced Certificate Holders and Frame options. See all customization options
---

All-Virtual Years of Service Award Ideas - for REMOTE Employees (Gift of Choice, sent by Email)

A great option for your Remote Employees - get details for a virtual, emailed, all electronic option for Service Anniversary Awards.

See how to easily provide meaningful gift-of-choice service recognition awards for all your remote employees. See more details here, or Contact us today to schedule a short overview and an online demo

---
Service Award Package Tier-Level-Pricing: The following table shows the prices for each tier-level award package. Everything is included at each tier-level. Click a level below to browse the large gift selection in each.
Pricing for each Service Award
package Tier-level
---