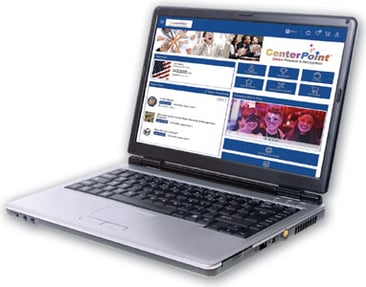 Use our Center-Point platform to manage all your enterprise-wide programs with one central points-based software platform.
Points-based programs are one of the most powerful and effective ways to motivate and recognize employees, enabling you to provide rewards for many different types of activities and achievements that are important to your company.
Our easy to implement platform provides a single management system to run one or multiple points-based recognition programs.
With a Points-Based system, employees are motivated to find ways to earn and accumulate additional points which allow the redemption of higher valued awards of their choice.
Your company can create a Culture of Recognition and achieve huge benefits for your employees and the company with an online comprehensive points-based rewards program.

Features of SYG's Points-based platform:
Program Analytics: Included reporting tools allow you to capture all the needed data to effectively monitor and analyze your program.
Real-time Data: Managers will have real-time employee details at their fingertips so they can track the progress of the incentive program.
Communication Tools: Management can use these tools to create targeted communications to participants to help encourage positive behavior and even greater achievements. Also includes functions for a Welcome Page news dashboard, automated award notifications, and much more.
Years of Service / Milestone Recognition: The platform includes a full-automated Service Award feature that can be triggered by the employee's service anniversary date.
Birthday Recognition: Includes a full-automated birthday recognition feature that can be triggered by the participant's birthday.
Peer-Peer and Manager-Peer Recognition: The platform provides a 4-step process for recognition nominations based on predetermined objectives.
On the Spot Awards: This feature allows you to reward positive behavior instantly, right when it happens!
Point-Banks: Each participant has a unique log-in and can accumulate points in their point-bank.
Reward Redemption: participants redeem their points using our large online rewards catalog.
Global Fulfillment of life-style merchandise awards
---

Call now, or Click above to request information, or to schedule a demo
---

Why Select-Your-Gift for your Employee Point Programs?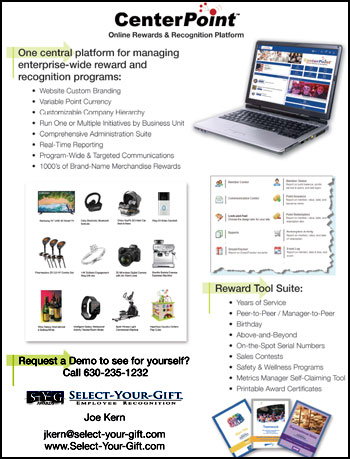 Our support team offers you years of experience in employee recognition program design, implementation, and analysis.

When you contact us, a dedicated Program Manager is assigned, providing a Single Point of Contact for fast, personal support.
Download this summary (PDF) of
SYG's Points-Based Employee Recognition Program.
---
Get started today with Points-Based Employee Recognition!
Call now to talk to a Recognition Specialist
call 630-954-1287 (M-F, 8:30 am - 5:00 pm CST),
or
Use the form below to request FREE information.