Sales Contests Starting Ideas
How to design the perfect contest that motivates your entire team!
Sales Contest Planning Guide is now available for download. Get tips and ideas to create your next sales motivation contest.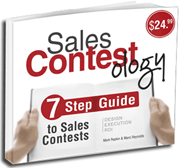 To be a great sales contest, it should be designed to motivate and positively impact your entire team, not just provide rewards the same TOP performing sales people.
Most contests miss engaging 80% of the sales team - who for various reasons, will never be your star performers. Any Sales Contest that is designed where only the TOP few can "win" and everyone else is a "loser", will actually do more harm than good. We can do better!
You don't want most of your team feeling that, from the very beginning of your newly announced contest, there is no hope for them to win anything. The concepts presented in this free resource will help you create a contest that tries to motivate everyone, gives everyone a goal that is achievable, and rewards each person who meets or exceed their personal goal. That way, everyone has a chance to win something!
We have prepared this FREE eBook to help you create sales contests that will energize your ENTIRE sales team. We hope the concepts presented here will enhance your abilities as a Sales Leader, contest designer, and sales motivator.

Get the free eBook now (download), when you request an awards information package:

Upon receiving your request, we will immediately email you a link to download Free eBook: Guide to Sales Contests.

We will also send you an actual Employee Award packet with sample award catalogs, and information on how to get started awarding your contest winners with a gift of their choice. We want you to see the quality of these award packages, and what the employee could receive when they are recognized.

Even if you have never implemented a sales contest, this eBook provides practical advice to help you design your first one.

---

All Contests need great Awards!

Planning for your Contest - AWARDS

How to provide great Sales Contest Awards: As described in this Sales Contest (eBook), you can provide Level-based gift-of-choice awards for the different levels of achievements outlined in your contest.

The award packages provide a gift selection (at each level), letting contest winners choose their own awards. They'll get something they will appreciate and value.

Whether starting a new sales contest, or providing awards for an existing contest, we have the awards you'll need: Select from 17 award packages, each priced in Tier-levels designed to fit any organization's budget, and are just right for your contest awards.

Gift Catalog Award Packets are low cost and easy-to-administer solutions. Each includes a beautiful Award Presentation Packet with everything needed, including your choice of stationary that can be printed with your company's message and logo.

See these great solutions for Sales Incentive and Recognition Awards.

---

To get your Sales AWARDS program started: Request a Free information packet
You'll get the FREE eBook, plus we'll send a sample Award Presentation packet and sample catalogs.