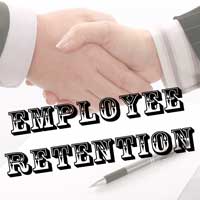 10 Ideas to Improve Employee Retention
Employee retention is a continual challenge, and must be an ongoing management priority in order to build and keep an amazing staff.
Low retention rates affect your bottom line, and we have employee retention ideas to help that. The costs of employee turnover can be 1.5 to 2 times the salary of an employee. Also, consider the lost productivity and the impact of lower morale when good people leave.
Because of the financial impact, it makes good business sense to try to improve employee retention rates.
Here's 10 employee retention tips to help keep your best people: