Looking for great Employee Recognition Awards and Thank You gift ideas? Select-Your-Gift offers a wide range of affordable, easy to use employee appreciation programs.
Opportunities to Motivate with Recognition programs and Awards are limited only by your imagination. We offer solutions to fit any budget.
See this short video overview of today's most popular types of Employee Recognition Programs & Awards:
If you're ready to get started, let us send you a free information package.

We are all are built with a fundamental need to be appreciated. Understanding every person's fundamental need to be appreciated, is key to implementing a culture of recognition in your organization.
With a strategy of continual recognition, you'll help employees see their work means something, and their contributions make a difference.
A personal thank-you from their manager, or some other type of recognition shows employees their efforts were noticed and gives them a sense of achievement and pride.
Typical benefits of Recognition Programs:
When employees feel appreciated and valued, retention and loyalty improves.
Employee Engagement levels and productivity improves.
Award presentations are perfect opportunities to talk about the employee's contributions.
Recognition demonstrates that your company values its employees, and it will inspire others.
See these Employee Recognition ideas
---
Service Awards - Years of Service Recognition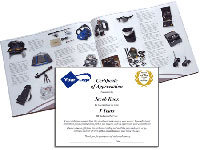 Easy to start and administer Service Award program offers many customization options, with No minimum order, and No contracts to sign. Employee satisfaction with their service award gifts is 100% guaranteed! Levels available to fit every milestone and budget.
See everything that's included: The awards catalog, certificate, two envelopes, closing seals, mail-in and online redemption instructions, toll-free order support line, the selected gift, and the gift shipped to employees anywhere in the lower 48 US.
---
Gift Catalogs - Presentation Packets for Awards, Holiday Gifts

Perfect for employee recognition awards and Gifts. Each award packet provides many customizing many options, including your choice of: Catalog Covers, Certificate stationary, closing seals, award package levels, an inner presentation jacket, an outer mailing envelop, and more. Levels available to fit every budget.
See everything that's included with each award packet, plus see the awards at each tier level, all your customizing options, and pricing.
---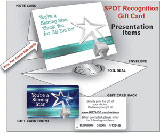 Spot Award Cards are immediately redeemable online for a gift from the award tier-level assigned to each card. Five pre-designed Presentation Package themes are ready to go. These plastic award cards and the included note-cards can be customized with many options.
See everything that's included with each Spot Recognition package, available themes, the awards at each tier-level. Many levels for every award budget.
---
Point Programs - points-based Incentive and Recognition Programs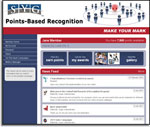 Create excitement by implementing a Points-Based program for Employee Recognition awards. In this type of program, points are awarded for various desired activities, and can be accumulated and then redeemed using a large selection of online merchandise awards.
We offer two great points-based solutions:
A full-function, online Employee Engagement Platform, with scalability, and world-wide fulfillment.
Or, a least-cost points-based solution that still lets you take advantage of the tremendous benefits of a point-banking system.
See more about Points-Based programs
---
Use the form below and we'll send a complete Information package.