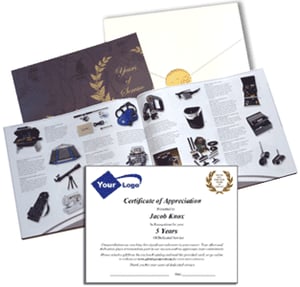 Select-Your-Gift makes it easy to show appreciation for your employee's loyal service by offering many tailoring options for your Service Recognition Award packets.

These packets allow employees to choose their own gift, and you can make them as unique as your organization.

Service milestone certificates can be personalized with your company's logo, the employee's name, and your message showing appreciation for their dedicated service and contributions.

Some of our Employee Service Award tailoring options include:
Service Award package-level choices: You determine your budget by selecting the service award package level that fits each of your service milestones. (package/catalog levels & prices)
Catalog Covers: Your Choice of covers for the Awards Catalogs. See cover choices below, or download PDF
Award Certificates: Choose the themed stationery for your Award Certificates. Use our standard Years of Service stationery, or see the other options below.
Printing Award Certificates: Choose a printing option for your certificates: you can print on the stationary provided, or we can print them for you.
Milestone Seals: Packet-closing Years of Service seals are included. When ordering, simply indicate the anniversary year for each seal. See all packet-closing-seals below.
Award Packet Distribution: Normally all award packets are sent to you for distribution to the employees. If needed, we can optionally mail packets to employees, using an excel files of names / addresses.
Enhanced Presentation packet options: Options are available to make your service recognition awards even more special. Below, see the enhanced presentation options for Certificate Holders, or Framed Certificates.
---
Catalog Covers: Your Choice of covers for the Awards Catalogs
Select either "Years of Service - BLUE", or "Years of Service - Gray" theme for your awards catalog covers.

---
Themed stationery for your Service Award Certificates.
Select from our standard "Thank You for your Years of Service", the "Black/Gold Bordered", or the "Blue/Silver Bordered" stationery options.
One of these will be included with each employee service award packet, and will arrive blank unless you prefer to have us optionally print your certificates. We are happy to personalize them with each employee's name and anniversary milestone - as shown in this example. There is a small charge to print/personalize each certificate.

Please contact us for more information about custom printing.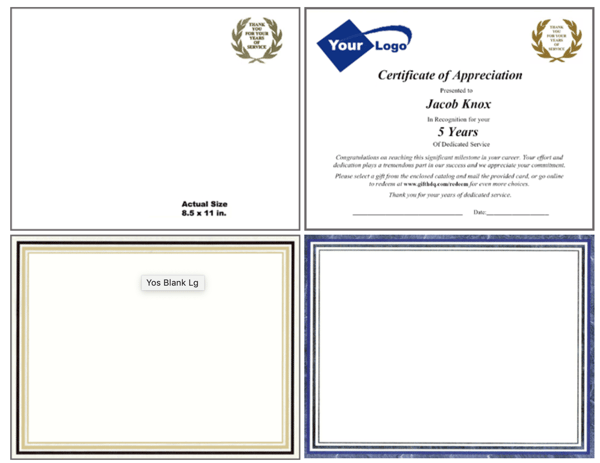 ---
Closing Seals - for Service Award Presentation Packets

Gold Foil Service Award packet-closing-seals are included. These seals are used to close the packets inner-wrap - which holds the awards catalog and certificate. Each shows the employee's service milestone year.

When ordering Retirement employee awards or recognizing "early" service, such as 1 month, 6 months, etc. we offer a "blank-year" seal with just "Thank You", as shown above.
---
Enhanced Presentation Options are available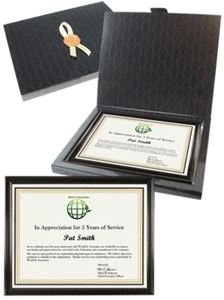 Each Award packet already includes everything you'll need to present your Service Recognition award.

For your special milestones, we offer Enhanced Presentation Options
to make your awards even more memorable.
See details for:
Enhanced Presentation Options
---
When you contact us, your dedicated recognition specialist will work closely to review all customization options and make it easy to set up your employee awards program.