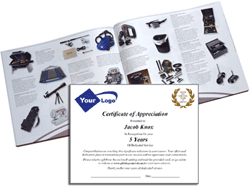 At Select-Your-Gift, we understand the importance of recognizing and celebrating your employees' years of service. Studies have shown that organizations that provide special recognition of service anniversaries experience increased employee morale, engagement, productivity, and commitment.
Our Service Recognition Programs are the most prevalent and popular recognition programs in use today. We offer two Gift-of-Choice solutions: Service Recognition Award Packets and a Virtual (emailed) solution. Choose the option that best suits your company's needs. Whether you're starting a new Service Award Program or looking to update your existing program, we're here to help. We can tailor a gift-of-choice award solution that's just right for you.
We can help you get started - using our Service Award Presentation Packets, or our VIRTUAL (emailed) solution.
We make it easy to show your appreciation for your valued staff. Our tier-based, service award packages can be tailored for each of your service anniversaries, so they fit every program's budget. With quality Gift-of-Choice catalog packets (plus our virtual-gift option), we provide the perfect service recognition gifts for your employees, giving them a choice of their own gift.
Recognizing employment milestones with service anniversary gifts and your service recognition message is a perfect way to show employees you appreciate and value their hard work, dedicated service and their significant contributions to your organization.

Our Gift of Choice - Service Award Presentation Packets, for example, includes a large gift catalog, Service Award certificate stationery, and envelopes, enclosed in a package that can be presented or mailed to the employee. In the comfort of their home, employees can choose their recognition gift from the provided catalog or may redeem online, where they'll see an even larger selection of gifts. The gift selected is then shipped directly to their home..

Visit our Service Award details page to see all that's included in each recognition package. Let us help you create a culture of recognition and show your employees how much you value their service!

---

Traditionally, special recognition for length of service starts at an employee's 5 year work anniversary, but today, many organizations are starting much earlier, beginning at their 1 year work anniversary.

---
All Virtual - Emailed Employee Service Recognition Gifts
In addition to our very popular Gift-of-Choice Award Presentation Packets, we also provide a Virtual option so you can provide the same meaningful gift-of-choice service recognition awards for employees, by EMAIL. It's Fast and Easy! Contact us today to schedule a short overview - and online demo.



---

Contact us, and we'll help you get started. We will be happy to forward an information package with a sample Employee Service Award packet, catalogs, certificate, customizing options, and pricing. Your dedicated specialist will provide personal assistance and be your main point-of-contact.

Select-Your-Gift wants to make your recognition job easier! Get started now!

---