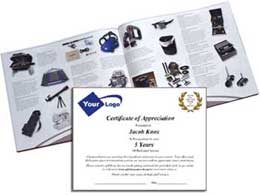 With a Service Awards Program from Select-Your-Gift, employees can choose their own gift from a catalog - or online!
Years of Service Award Packets include many customization options, with No minimum order, and No contracts to sign. Satisfaction with employee service awards is 100% guaranteed.
There are many employee award levels to fit every company's recognition budget.
You control your budget by selecting the award package levels to be used for each of your service anniversary awards. If you're also looking for ideas for new employee on-boarding gifts and retirement gifts, these are perfect!

Get Free Info & sample award packet

Everything is included:
Included with each service anniversary award packet: the gift catalog, the presentation materials including: stationery, envelopes and seals, mail-in or online redemption, toll-free order support, the selected service recognition gift, and the gift shipped to employees anywhere in the lower 48 United States.
Video-Overview

of Service Awards Program



See what's included with each Service Anniversary Award Package