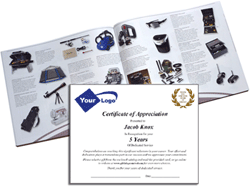 Why do over 80% of companies have a length of service recognition program? Because they are proven to improve morale, employee engagement, and retention!
Service Award Programs are the most prevalent recognition program in use today. Most organizations found employees stayed longer when their company provided an effective service anniversary recognition program.
Employees say recognition of service programs help them feel appreciated. When companies acknowledge, celebrate and reward service milestones, it not only reduces employee turnover, it improves the entire employee experience.
Select-Your-Gift makes Service Awards easy, and can help you create the perfect service recognition award for your valued staff. With quality Gift-of-Choice catalog packets, we make it easy for you to show appreciation by letting employees choose their own special gift. These tier-level packages can be tailored for each of your service anniversaries, so they will fit every recognition program budget.
Recognizing years of service milestones with a certificate and gift catalog is a perfect way to show employees you appreciate and value their hard work, dedicated service and accomplishments.

Our easy to start, and easy to administer program includes a Formal Recognition Packet with everything needed to recognize each service milestone. See all that's included with each Rewards Package.

---

Contact us, and we'll help you get started. We will be happy to forward an information package with a sample Employee Service Award packet, catalogs, certificate, customizing options, and pricing. A dedicated specialist will provide personal assistance and be your main point-of-contact.

Select-Your-Gift wants to make your recognition job easier! Get started now!

---