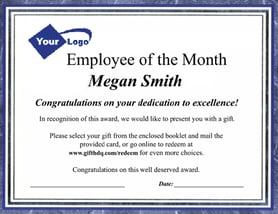 The purpose of Employee of the Month recognition is to show appreciation for the efforts of your employees as they help your organization achieve its goals and deliver excellence.

This award not only recognizes exceptional performance, it serves as an example for all employees, while helping to reinforce the behaviors you want repeated.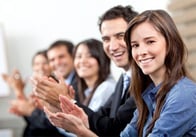 Employee of the Month programs are another important tool management can to use in your strategy to create a culture of recognition in your company.

This, and all of your other recognition programs should work together to provide benefits to your organization, including:
Improved employee morale, loyalty and retention
Increased levels of employee engagement
Promoting your company's values and culture
Providing timely recognition of outstanding employees
See: Employee-of-the-Month Awards - Details
---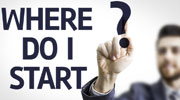 Contact us, and we'll help you get started. We will be happy to forward an information package with a sample Award packet, customizing options, and pricing. Your dedicated specialist will provide personal assistance and be your main point-of-contact.
---
Tips for Employee of the Month programs:
Define your nomination criteria and process: Define the standards for receiving this recognition. A clear and detailed description will help employees feel the program is unbiased and fair.
Nominations from upper management can be seen as a negative, as it creates an unhealthy competition between peers.
To eliminate the negative feelings of peer competition, make it easy for all non-management employees to submit nominations for review, (allow self-nominations too). Provide a form for this purpose. Include guidelines and a deadline for nominations each month.
Some popular Nomination criteria includes:

Dependability

Innovation

Above and beyond activities

Assistance to peers

Excellent performance

Creating a pleasant work environment

Increased productivity

Highest ratings from Customer Service
Many Employee of the Month programs will fail if this step is missed!
Publicize your new Employee-of-the-Month Program: Announce the program and its awards. Explain the nomination criteria and the nomination process at a company meeting, and in your company newsletter if available. It's key that all employees understand what's needed to get nominated so they could work toward your nomination criteria. Then build excitement for the program. Be sure to also publicize your monthly winners!
---
Employee of the Month - Awards

Select-Your-Gift has the perfect awards for Employee of the Month recognition. They're perfect because employees can choose a gift they'll really want and use.

We make it easy with Gift-of-Choice Award Packets prepared with your Employee of the Month message and company logo. Just give the Award Packet to the employee, and you're done!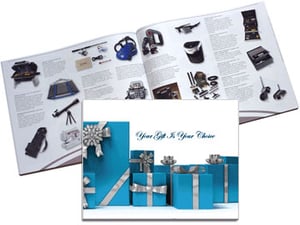 Award Packets allow each recipient to select their own award from a wide range of popular life-style items.

Everything is included: The presentation materials, a tier-level catalog, online redemption, the selected gift, and the gift is shipped directly to the employee - within lower 48 US. Plus all employee awards are backed by our 100% satisfaction guarantee. - See what's included

Easy to redeem awards: Employees can redeem using the provided awards catalog and postage-paid card, or they can redeem online where they'll see almost twice as many items to choose from.
Easy to administer Employee-of-the-Month program:
Fits every award budget with Tier-level package pricing.
No minimum order quantity, no contracts, and quick fulfillment of awards.
Track of your program with redemption-status reports, provided in excel files.
Easy Ordering: Order monthly (or quarterly), or give us a standing order to automatically ship the same number of packets to you monthly. Packets can be personalized with each employee's name, or you can add a name to the provided certificates before presenting awards.
Easy to Start Program: Your dedicated recognition specialist will review your requirements and help with all program setup..
---
Get started with Employee of the Month Awards today!
Call now to talk to a Recognition Specialist
call 630-954-1287 (M-F, 8:30 am - 5:00 pm CST),
or
Use the FORM below to request FREE information.