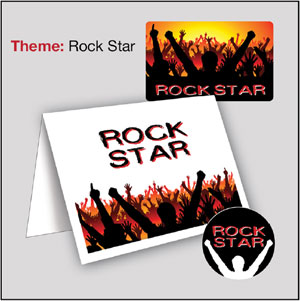 Spot Award Cards makes it easy for management to let employees know their specific actions were noticed and appreciated, thereby encouraging behaviors management wants repeated.

Employee Spot Awards can be used to quickly provide positive reinforcement for special contributions or actions your organization desires.

All Employee Recognition programs are powerful tools for exerting positive change in your company, and Spot Recognition is a perfect addition to help motivate specific behaviors.
Select-Your-Gift makes Spot Awards EASY
With Spot Awards packets, you can recognize and reward exceptional employee performance, instantly - on the spot! Many award themes are available, or you can create your own. If an employee's manager sees something great happening, they can immediately show their appreciation, and say why it was a great job.
Managers simply add their message to the provided Note Card and present the Spot Award to the employee. Awards are instantly redeemable for a gift of their choice, from an online tier-level catalog of almost 100 life style items. - See what's included, and how they work below.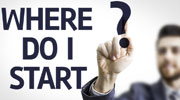 Contact us, and we'll help you get started. We will be happy to forward an information package with a sample Spot Recognition Award packet, customizing options, and pricing. Your dedicated specialist will provide personal assistance and be your main point-of-contact.
---
Spot Award Packets - What's Included: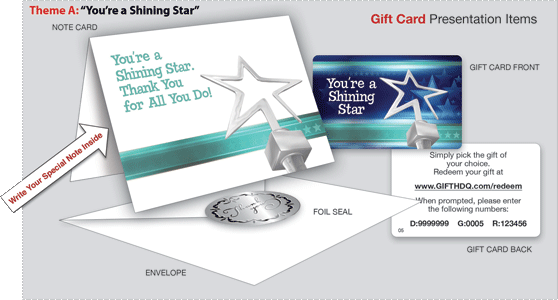 Everything is Included in each packet: The Employee Spot Recognition Presentation materials including a themed Gift Card and Note Card, an envelope with a matching themed Seal, the selected gift, and the gift shipped anywhere in the lower 48 US. The back of each plastic card includes a unique redemption number and online redemption instructions.
Above is a sample of just one of the many themes available. See more themes here.
---
Employee SPOT Recognition Awards - Overview
Themes: Choose from ready-to-go Spot Recognition Themes, or create your own custom theme. (See: Award Themes)
Award-Price-Levels: Choose the award tier-levels for your Spot Recognition Employee Award packets. (see: Details & Award Level-Prices)
Ordering: Order a supply of Spot Awards to keep on hand. Order a few different themes at various award tier-levels for the most flexibility of your Recognition Program. (see: How to order)
Distribute awards: Give a supply of Spot Award packets, of various tier levels and themes, to each manager. They'll have them on hand to give to employees as needed. Be sure to provide managers with instructions and guidelines for awarding Spot Recognition.
---
Get info to get started with Spot Awards today!
Call now to talk to a Recognition Specialist
call 630-954-1287 (M-F, 8:30 am - 5:00 pm CST),
or
Use the FORM below to request FREE information.