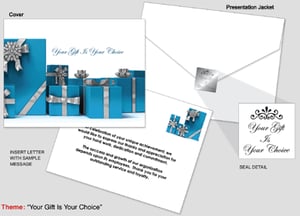 Are you looking for the best way to reward your hardworking staff with meaningful employee recognition gifts that recipients will really appreciate and use? Look no further,
Select-Your-Gift's Gift-of-Choice solutions have you covered!
Gift-of-Choice solutions are offered in Tier-Level Gift Catalog and online Collections so your recognition programs can deliver the best employee experience, while staying within your budget. They are suitable for all types of employee recognition programs.
With Select-Your-Gift's personal service and easy-to-use programs, you can create a culture of recognition that will engage and motivate your employees. We make Employee Recognition EASY and affordable!
Start Today - using our physical Presentation Packets, or our VIRTUAL (emailed) solution.
Gift Presentation Packets are popular Gift-of-Choice solutions among our clients

Each packet consists of a tier-level based gift catalog (you choose), stationery for your message, and a large outer envelope. The packet can be presented or mailed to employees. Employees choose their own gift from the provided catalog, or they can redeem online where they'll see an even larger selection of gifts. The selected gift is then shipped directly to their home. (see details, pricing and what's included)

We also offer a Virtual-Emailed Gift-of-Choice solution that is Fast and Easy!

Your message and a link to the online catalog is Emailed to the employees. Then, in the comfort of their home, employees can choose their own gift and the selected gift is then shipped directly to their home. (details)


Select-Your Gift offers many easy to use Employee Recognition solutions ranging from a comprehensive Points-based Software Platform, to Award of Choice options including Physical Recognition Award Packets or Virtual awards sent via email. Tier-level based, gift-of-choice awards are perfect for Service Awards and all types of recognition awards, or for Holiday Gifts and Appreciation gifts for your employees or clients.

Employee Recognition Ideas - Gift-of-Choice packets can be tailored for:
Corporate Gifts - for customers and client thank you gifts, or for employee appreciation day gifts, birthdays, or any special occasion
Employee Christmas Gifts - themed for holiday gifts to thank employees for their achievements and hard work throughout the year
Service Awards - many special customization options for Length of Service Recognition Award packets
Employee Recognition Awards - solutions from Gift Catalogs to a comprehensive points program. All these programs provide additional opportunities to motivate and will have a positive impact on morale and employee engagement.
Spot Recognition - Help build your Culture of Recognition with the addition of Spot Awards. Immediately recognize great work or special efforts with unique spot recognition packets that are instantly redeemable from online gift catalogs. Many pre-designed themes from Great Job, Holiday and Thank You Gifts, to various Recognition award programs.
---
Gift of Choice Presentation Packets include your choice of themed stationery for your recognition message, a tier-level gift catalog, plus a link to view and select their gift online.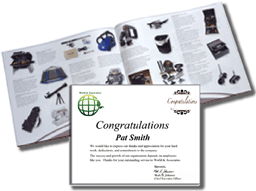 Everything is included:
For one low price per package, you get the presentation packet, catalog and/or online redemption, the selected gift, and the gift shipped to the recipient (within the lower 48 US). All gifts for employees are backed by our satisfaction guarantee.
Gift Catalog Presentation Packets offer many customization options
to clearly identify you and your company as the giver of the award. Include your personal message and logo on the provided stationary and recipients will always remember your special gift. See the many
Customizing options
for these employee and client gifts.
---
Why choose Select-Your-Gift for your Employee Gifts and Awards?

Our goal is to make your Employee Recognition Easy and Affordable
A dedicated recognition specialist is assigned to your account for fast, personal service.
We offer quality programs and awards at the lowest prices, from Gift Catalogs to Points-Based Software solutions
We provide prompt fulfillment of redeemed gifts, with 100% employee satisfaction guaranteed
Toll-free support for employees is also available when redeeming gifts, or checking status
---
Contact us to Get started today!
Call now to talk to a Recognition Specialist
call 630-954-1287 (M-F, 8:30 am - 5:00 pm CST),
or
Use the form below to request FREE information.