At Select-Your-Gift, we understand the importance of recognizing and honoring employee service milestones. That's why we offer Enhanced Presentation Options to elevate the experience of our Gift of Choice Service Recognition Awards, creating truly memorable moments that will be cherished by your employees. With these custom packaging options, our team can help you tailor beautifully designed gift boxes or envelopes that build anticipation and excitement.
As outlined on our Service-Awards-DETAILS page, each Recognition packet already includes all the essentials for presenting your recognition award and allowing employees to select their preferred gift. However, our Enhanced Presentation Options take it a step further, giving you the opportunity to customize and personalize the award presentation process.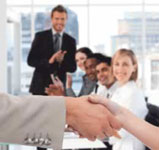 By utilizing our Enhanced Presentation Options, you can make your Service Awards truly unforgettable, reinforcing the importance of each employee's milestone and creating a sense of pride within your organization.
These options can be utilized for all your service recognition packages, or you can reserve them for more significant milestones, giving you the flexibility to allocate your recognition budget effectively.

Get started Now
and begin celebrating employee achievements in a remarkable way with Enhanced Gift-of-Choice Presentations. When you contact us, we'll help you to explore the options that can help elevate your recognition awards to new heights.
---
Enhanced Presentation Package Options

Deluxe Service Award Certificate Holder
This enhanced presentation option provides an 11.5-inch x 9-inch deluxe certificate holder for the included recognition certificate printed with the employee's name, company message and logo. The holder includes an easel and hanging option.

This option also includes all presentation materials needed to commemorate your employee's Years of Service, and includes an envelope suitable for mailing or presentation of the award.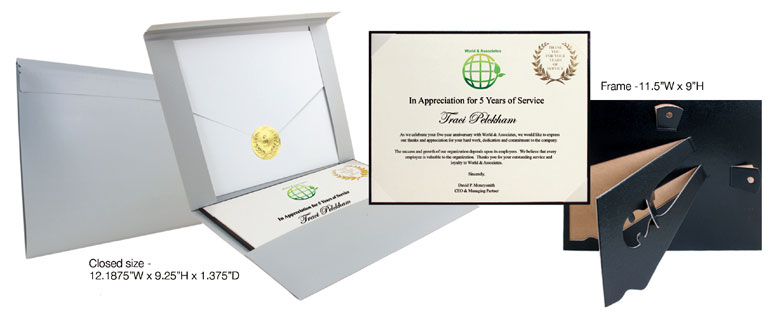 ---
Framed Service Award Certificate and Premium Box
This option provides an 11.75-inch x 9.375-inch frame for the printed recognition certificate personalized with the employee's name, company message and logo. The frame includes an easel and hanging option.

A premium box is included, plus a wax "Thank You" seal and champagne tone ribbon. The premium box contains all of the presentation materials needed for your service recognition award.

Also includes a box suitable for mailing or for personal presentation of the service award.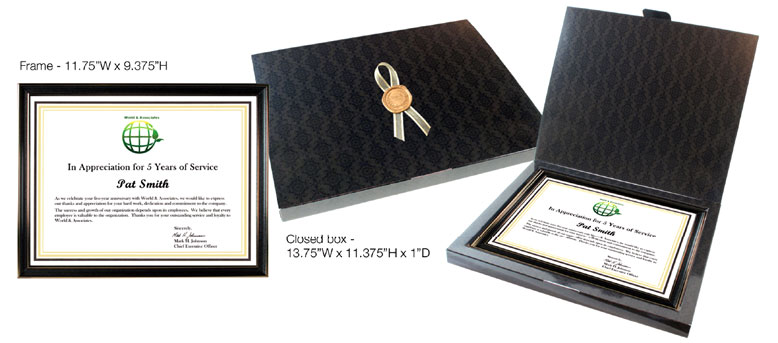 ---
When you contact us, your dedicated recognition specialist will work closely to review all customization options and make it easy to set up your employee awards program.