The following describes Select-Your-Gift's Enhanced Presentation Options for your special milestones, allowing you to make these Gift of Choice Service Awards even more memorable.
As shown on Service-Awards-DETAILS, each Service Award packet already includes everything needed to present your Recognition award and allow employees to choose their own gift.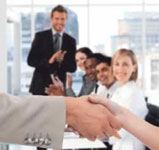 These Enhanced Presentation Options can be used with all your service recognition packages, or just use enhanced packages for more significant milestones, providing you with more control over your recognition budget.



Get started Now! Contact us for details and we'll send you a free sample award packet.
---
Enhanced Presentation Package Options

Deluxe Service Award Certificate Holder
This enhanced presentation option provides an 11.5-inch x 9-inch deluxe certificate holder for the included recognition certificate printed with the employee's name, company message and logo. The holder includes an easel and hanging option.

This option also includes all presentation materials needed to commemorate your employee's Years of Service, and includes an envelope suitable for mailing or presentation of the award.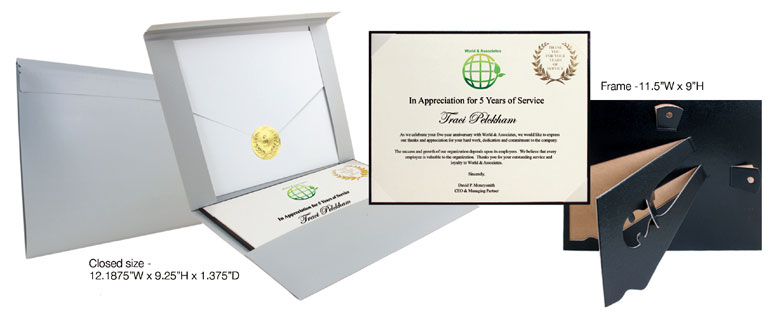 ---
Framed Service Award Certificate and Premium Box
This option provides an 11.75-inch x 9.375-inch frame for the printed recognition certificate personalized with the employee's name, company message and logo. The frame includes an easel and hanging option.

A premium box is included, plus a wax "Thank You" seal and champagne tone ribbon. The premium box contains all of the presentation materials needed for your service recognition award.

Also includes a box suitable for mailing or for personal presentation of the service award.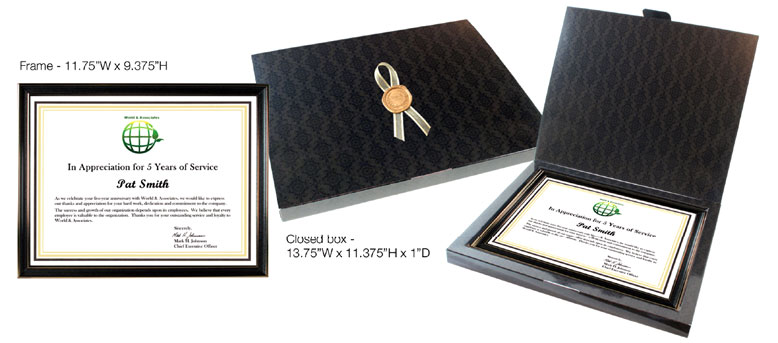 ---
When you contact us, your dedicated recognition specialist will work closely to review all customization options and make it easy to set up your employee awards program.