Employee Point Programs - easy,
low cost solutions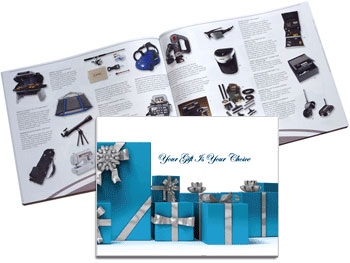 Employee Point Programs can either be an online comprehensive system, or a low-cost off-line points-based solution.
For each solution, the goal is the same: award points for specific activities, and allow those points to be accumulated and spent on awards of their choice.
The Points-based solution presented below is the lowest cost method to implement a program where employees can earn and redeem points for awards.
For details on our feature rich, full-function online employee points program solution- click here.
---
The following describes our least-cost, "off-line" points-based incentive and recognition program. How this solution works:
Reward-points in this employee points program are awarded and tracked manually, often using various forms of point-checks, pre-printed point-slips, or point-chips.

In this employee points program, participants accumulate points, redeeming or saving points for even larger awards.

Point-Redemption: Participants view our printed awards catalogs, or they can view our online catalogs to select their awards. They complete a provided Award Redemption Form, indicating their gift selection, and the points used. These forms are returned to your program administrator for approval. Approved forms are then forwarded (via: fax, email, excel-files) to Select-Your-Gift for fulfillment.

Redeemed Gifts will be sent to the address specified on the form, either to the recipient, or to the program's administrator as requested.

Gift catalogs and Award Redemption Forms can be customized to the specific needs of your employee points program.

With this employee point reward system, your only costs are for the redeemed awards. There are no setup costs, commitments, or fees other than the minimal cost for any required materials. Also ask about our no-charge online catalog viewing options.

Awards are shown in tier-level priced catalogs, and each level is assigned a point value.

Many of our clients have used this least cost option to effectively run many types of incentive programs.

Contact us and see how quick and easy it is to implement reward points programs.
---
Need a full function online Points-Based
Recognition solution?
See our comprehensive Employee Point Programs Platform that can help you manage all your corporate rewards and recognition initiatives in a easy-to-use, full-function, online points-based solution that's designed to be flexible and scalable.
---
See our Blog for more on Employee Points Based Award Programs

Point Awards is just one more tool to help you create a recognition culture in your organization. Employee Recognition Programs that award in points are great because they allow frequent small awards that acknowledge desired actions and the sucesses of employees. Frequent affirmations show that you notice and appreciate their efforts. And, points can be accumulated (or banked) for larger awards.

See these Tips to Designing Effective Employee Incentive Programs

Frequent recognition, offered for many reasons, and done in many ways, has been proven to help increase employee engagement, loyalty, and performance.