Employee Recognition Gift Catalog Award Packets - How to Order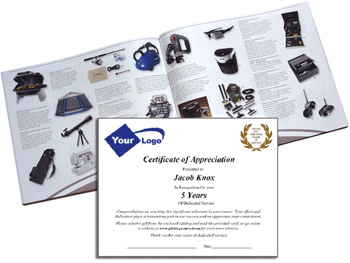 The following forms are provided for your convenience when ordering Gift Catalog award packets for:
Employee Service Awards Programs
Employee Recognition Awards
Holiday and Christmas Gifts
Please call if you have special requirements for your employee recognition award packets, such as custom letters to be included with your packets, or if you need assistance. We're always available to help make ordering employee recognition award packets easy!
The Easy-to-use Order Form (downloadable below): is an interactive PDF form you can complete, submit, and then save on your computer. Click to print or email.
Order Form: Please SAVE this PDF document on your PC. Then re-open it to complete it. Use this Interactive PDF Form to order all of your Award packets. Once your order is completed, you can print it, and then email it by just clicking a button on the form. Be sure to save a copy of this form on your computer for future re-orders.

Paying by Credit Card: Use this form when paying by credit card for employee recognition gift catalog packages. Needed only initially to provide your credit card information or when something has changed. It is not normally needed for re-orders. An Invoice will be mailed along with a credit card transaction receipt.

Credit Application: Please use this form if you want us to bill by Invoice for your employee recognition award packets. This form is required with your first order (if requesting credit). All information is held in the strictest confidence. Note: Alternately, you can provide your own credit information form, if available.
---
Note: If you have not received our free info package, please click below:

---
Using the above ORDER Form, follow these easy steps to complete and place your order:
Gift Catalogs - Indicate the quantity needed for each Employee Recognition Gift Catalog Package Level

Choose your themed insert sheets and matching seals, by type:

Holiday Greetings, Merry Christmas
Congratulations
A Gift for You
Thank You
Safety Award
Employee Years of Service Awards

For Service Award Programs, also indicate in the provided boxes, how many SEALS are needed for each service anniversary milestones (3-yr, 5-yr, 10-yr, etc.)

Blank insert/certificate sheets: Choose your themed stationery. Stationery is normally provided blank, ready for printing recognition certificates. One blank, themed sheet is included with each packet.
Optional custom printing of insert/certificate sheets: Optionally, we can print your employee Recognition or Gift message on the provided stationery. Please call for details on custom printing, including pricing and minimums.
Optional Personalization: If you want us to personalize your certificate-sheets with each employee's name, please email your list of names in an excel file to ensure accuracy. Please contact us for excel file format, pricing and minimums.
Notes:

In the Special-Instructions section of the Order form, please tell us if you have any special shipping requirements and the date you need to receive your award packets.

Sending your Order: Using the Interactive PDF form, click to submit the form via Email, or Print and FAX. Include your Credit Card form, or Credit-Info-form with first order.
---
What to expect after placing your order:
We will call or email to confirm receipt, within the same business day.

When your gift/award packets ship, you'll receive an email with UPS tracking info

You will receive your order within 5 to 7 business days, or sooner if rush shipment was requested.
Please call with any questions, or if you need assistance
---