Need to calculate your employee's Tenure or Length of Service in Years and Months? It's Easy when you are using our FREE Length of Service Calculator Excel Template!
With this Excel template, you can easily calculate the length of service in Years, Months and Days, plus it calculates the date of the current, or recent milestone, and the date of the next work anniversary. Simply add employee names and hire dates to this template. You can easily modify and personalize the template, adding columns and filters as needed.
Having this tool can save you time and energy as you plan upcoming service milestone celebrations for your staff. Plus, you will learn how to calculate Years of Service in Excel.

To get started,

click here to download the free Length of Service Calculator.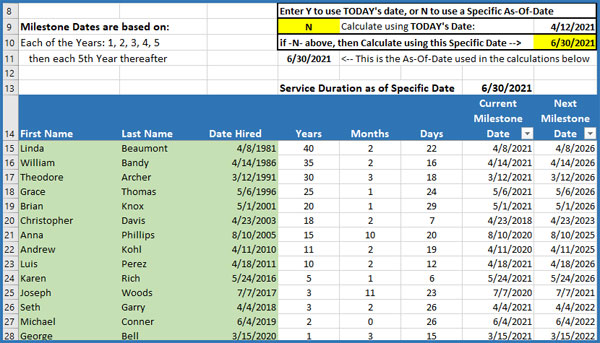 This tool provides more features than any other excel-based Employee Length-of-Service calculator we have found.
Features provided in this tool include:
Provides a simple way to use an End-Date of either TODAY's date, or a date you specify.

Calculates the current length of service in Years, Months and Days

Calculates the Current Milestone date, and the NEXT milestone date.

Calculates milestone dates for each anniversary year between one to four years of service, and milestone dates for each 5 years thereafter.
Don't waste time with difficult Excel formulas. Just download our free, ready to use length of service calculator. You don't want to miss a single milestone celebration just because you didn't calculate the employee's years of service in time.

---

Employee Recognition Gifts for Years of Service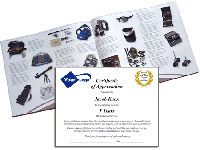 Whether you need Service Recognition Awards using a catalog-presentation-packet providing a Gift-of-their-choice, or a completely VIRTUAL - emailed gift-of-choice solution, we can tailor a solution that's just right for you.
Select-Your-Gift makes Service Awards easy, and can help you create the perfect service recognition award for your valued staff. With quality Gift-of-Choice catalog award packets, we make it easy for you to show appreciation by letting employees choose their own special gift. These tier-level packages can be tailored for each of your service anniversaries, so they will fit every recognition program budget.
See all that's included with each Service Milestone Awards Package.
---

All Virtual - Service Award Gifts for REMOTE Employees

See how you can provide meaningful gift-of-choice service recognition awards for all your remote employees. It's Fast and Easy! Contact us today to schedule a short overview - and online demo.



---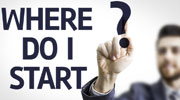 If you are starting a new recognition program, or updating an existing one,
Contact us, and we'll help you get started.
We will be happy to forward an information package with a sample Employee Service Award packet, catalogs, certificate, customizing options, and pricing. A dedicated specialist will provide personal assistance and be your main point-of-contact.
Select-Your-Gift wants to make your recognition job easier! Get started now!
---