Service Awards Program Planning Guide -
How to Start a Service Awards Program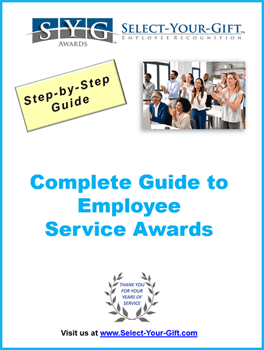 When planning new Employee Service Awards Programs, or updating an existing program, see the many tips in this Free eBook.
This FREE resource offers practical advice on how to start an effective and successful employee anniversary gift program in your organization.

It provides a brief history of Employee Service Recognition Programs, reviews the current trends with service awards, and describes the 4 different types (or components) of service recognition.

You'll also find Service Award Program budgeting suggestions for the first and second year of your new program, plus presentation tips for your awards.

It also describes how many companies deal with some common issues that come up when starting a NEW Service Award program, such as "What to do about service anniversaries - just missed?"
We want you to have the most information possible when planning your Employee Service Recognition program.
In our years of recognition experience working with thousands of organizations, we found that when companies begin considering a new employee service award program, they need information and guidance. This resource provides just that. It details the importance of service recognition, describes what other companies are doing, what awards work best, how to present service milestone awards to employees, and even how to calculate your first and second year award budgets.
When you contact Select-Your-Gift, your dedicated account executive will review your requirements and describe all your options to create a cost effective and sucessful service awards program.