The most common way for Sales Managers to motivate their team to sell more, sell better, or to sell something specific, is to use awards for incentives.
Start by setting reasonable, achievable goals for each of your sales staff. Goals needs to be challenging, but realistic. There are important tools to help keep up the momentum. When goals are met or exceeded, give your employees great awards.
Select-Your-Gift offers three great solutions for Sales Recognition Awards.

See each of these easy-to-use, and easy-to-start solutions, below:
---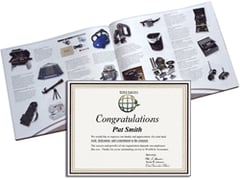 Gift-of-Choice Sales Award Packets
:

They are perfect for sales awards, and designed to fit every recognition budget with tier-level awards starting as low as $20. Employees can choose an award from the provided catalog or online.

Everything is included: The sales award presentation packet, including stationery for your recognition certificate, the awards catalog, the selected gift, and the gift shipped directly to the recipient (within lower 48 US). All for one low package price. Your employee's satisfaction is 100% guaranteed. Order as needed, with no minimums, and no contract is required.
---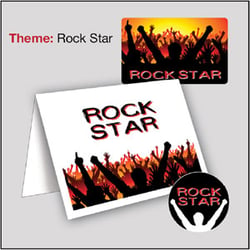 SPOT Awards for Sales Recognition
:

SPOT Awards are ready-to-go, gift-of-choice award packets. They are perfect for all sales incentives. Like our Gift Catalog packets, these are tier-level based and everything is included. Simply choose the award level to use for each packet.

Award-card recipients can immediately redeem their award online. Choose from many pre-designed themes, or we'll help you create your own theme design.

Keep a supply on-hand for each award level needed to instantly reward your winners.
---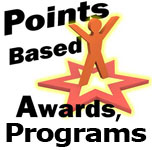 Points-Based solution for Sales Recognition:

For a comprehensive incentive and recognition solution, consider our Points-Based Platform. This program is the best solution when employees may participate in multiple recognition initiatives within your organization, with many opportunities to earn points.

Features Include: One platform to manage all your recognition programs, Corporate Hierarchy, a Budget manager, and an automated Service Awards component. A communication feature is also included that administrators can use to provide employees with updates and status information for each incentive program.

Earned points accrued in each employee's point-bank. Redeemable from a large, online selection of great life-style awards.
---
Please contact us! - We look forward to working with you.
Get started today!
Call now to talk to a Recognition Specialist
call 630-954-1287 (M-F, 8:30 am - 5:00 pm CST),
or
Use the form below to request FREE information.

As a Thank You for contacting us, you'll get the Free 7 Step Guide to successful Sales Contests, providing tips and ideas to create more effective incentives, and help you become a Sales Contest Expert!