Tailor your Employee Gift Packets with options for either Merry Christmas or Holiday Greetings Seals and Stationery, plus your choice of Holiday themed covers for the included gift of choice catalogs.
Every year we help businesses give the perfect gift to their employees— one they'll really value and remember for years to come. The best holiday gift for employees is one they can choose for themselves.
Some Employee Gift Packet customization options include:
Choose Gift package tier-level: Select the level that fits your budget.

(all levels, gifts, prices)
Choose a Cover for your Gift Catalogs:

See choices below, or

download this PDF.
Choose the Stationery for your Holiday message:

see Holiday choices below,


or see

-all- available stationery choices here.
Choose how to Print your Holiday Message: It's your choice. You can print on the stationery we provide, or we can print them for you. Get details when you contact us.
Choose the packet-closing Seals: Themed seals are used to close the inner-jacket of your gift packets. See the holiday-themed choices below, or see all available seals here.
Employee Holiday Gift packet - Distribution options: We normally ship all gift packets to you for distribution to employees. Optionally, we can mail employee Christmas gifts to their homes - perfect for remote employees. (contact us for details).
Ask about even more options for employees and clients, including: "all online" gift solution using email only, or a gift solution using our SPOT-award packets themed for holiday gifts.
Choose your Holiday Gift Catalog Covers, Seals, and stationery.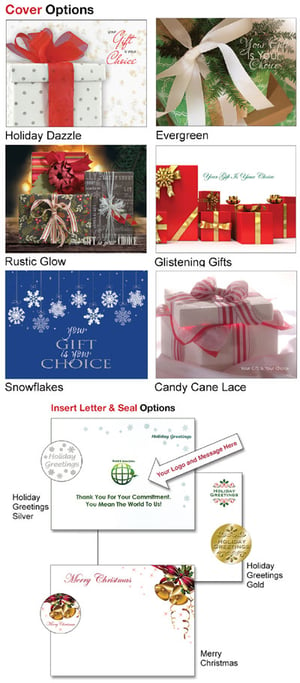 Download this PDF
showing your choices for Employee Holiday Gift Catalog Covers, holiday stationery choices, and their matching closing-seals. Click to see samples of printed Holiday Gift messages , plus even more choices for your included stationery and seals.

Here's how to get started:

Request free information (using the form below) and we'll send a sample Employee Holiday Gift packet, along with sample gift Catalogs, and complete information to get started.

Have Special Requirements? Please describe any special needs when contacting us.

In a Rush? Please call us now!

See How-to-Order, for complete Holiday Gift ordering information.
---
Get started with Holiday
Gifts for your Employees - today!
Call now to talk to a Recognition Specialist
call 630-954-1287 (M-F, 8:30 am - 5:00 pm CST),
or
Use the form below to request FREE information.