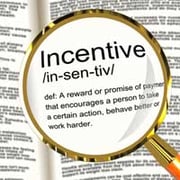 Statistics show that over 90% of the highest performing organizations use Incentive and Recognition Programs to motivate and reward employees.
Incentive and Recognition are key tools to help management encourage desired employee actions. Managers understand that recognized behavior gets repeated. When one employee gets recognized for a desired behavior, it encourages others and gets copied by other employees. Recognition programs can provide just the help your company needs.

Is there a difference between
Employee Incentives and Recognition?
To be sure you are designing and implementing the right program to meet your objectives, see these key definitions:

1. The Definition of Employee Incentives:
Incentives are positive motivational stimulus, designed to encourage employees to do something, such as: take some action, change their behavior, work harder, work safer, or work differently. Incentives tend to be focused on the area needing change.
Although most incentives are combined with an award, some incentives are simply great perks offered by your company. Such as: allowing flex hours, telecommuting on approved days, or tuition assistance. Incentives like these may be offered to entice higher quality candidates to work with your company, or to encourage employees to continue their education and possibly perform better in your organization.

2. The Definition of Employee Recognition:
Recognition refers to what is given for various employee accomplishments. It is, by definition, recognition for something - after the fact.
It is management's acknowledgment of the employee's accomplishment of defined incentives, such as: met certain goals or targets, achieved sales or safety goals, reached certain length of service milestones, or performed some action that management encourages employees to do. In addition to management's praise for the achievement, recognition often includes an award.

3. Incentives Combined with Recognition Awards:
Most of today's Employee Recognition programs fall into this category. Many organizations offer multiple programs to target different areas where improvement is desired.
Each program will have narrowly defined incentives, motivators, or goals, and are combined with appropriate Awards when these objectives are met.
When Incentives are combined with Recognition Awards, you will create perfect motivators to change behaviors, improve performance, and overall engagement levels.

4. Culture of Recognition:

An organization is said to have a Culture of Recognition when they have comprehensive Incentive and Recognition strategy that includes multiple components to motivate and recognize employees, creating a environment for continual recognition.

Each of their recognition components will target different areas where improvement is desired. Each program has its own narrowly defined incentives, motivators, or goals, and are combined with appropriate Awards when those objectives are met.

It's been proven that organizations with a Culture of Recognition are more successful and productive, and have the highest levels of employee morale and engagement.
---
Employee Incentives & Recognition Programs are the best investments you can make in your company.
---
Contact Select-Your-Gift for your next incentive/recognition program.

We'll work with you to create a Culture of Recognition in your company - from Service Awards and Holiday Gifts, to a comprehensive Points-based solution.
---
Get started today!
Call now to talk to a Recognition Specialist
call 630-954-1287 (M-F, 8:30 am - 5:00 pm CST),
or
Use the form below to request FREE information.