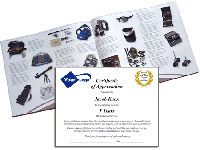 Employee Service Anniversary Gifts are powerful ways to acknowledge and reward your employee's loyal service and contributions to your success. This unique type of recognition is proven to have a significant impact on employee morale.

When you contact Select-Your-Gift, a recognition specialist will review your work anniversary program requirements and goals. We'll also sending you a sample Employee Work Anniversary Recognition Packet, sample gift-of-choice catalogs, information on tailoring and presentation package options, pricing and more. Your dedicated specialist will be your main point-of-contact, and will personally provide any assistance needed. Our goal is make your service recognition job easier!

Contact us today and we'll help you get started.
Employee Anniversary Gifts - Program Ideas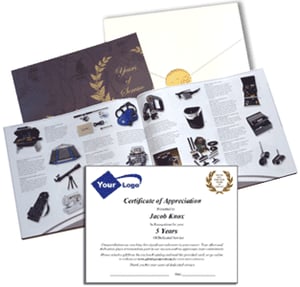 Ideas for Anniversary Gifts:

For the most impact of your gift, give employees a choice. Let them choose their service anniversary gift from a tier-level catalog, enclosed in a personalized award presentation packet with a recognition certificate. (See Details and Pricing here)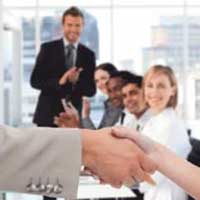 Presentation Tips:

Recognizing the employee and presenting their award is a very important part of the service recognition. For the most impact, have the employee's manager do the recognition in front of their peers. These events are great opportunities to honor and praise the employee's long service and significant achievements, and will demonstrate to all in attendance that your company values its people.
Anniversary recognition is one of the most popular and motivating employee programs you can provide. To help you plan, and get the most from your new program, consider the various milestones you plan to include.
Although many companies still recognize milestones beginning with the employee's 5th anniversary, then each 5 years thereafter (5, 10, 15, 20, etc), this practice is changing.

Work Anniversaries by Year: Today, many companies are adding new-hire gifts, gifts for completing your on-boarding program, and giving recognition for earlier service milestones, such as 3 months, 1-year and 3-years.

Changing employee demographics are requiring these changes, as newer employees need management to provide earlier feedback, acknowledgement and recognition for their service. Without it, they may feel unappreciated and simply leave. Earlier service recognition will help improve the morale and retention of your newer employees.
How much should you budget for each Service Milestone?
Many organizations we work with spend between $10-$25 (and more) for each year of service. Using this range, an award for five years of service would be budgeted between $50 and $125 (or more). What you allocate for each recognition package will depend on many factors, including your budget. (see these budgeting tips)

For more Tips for Employee Anniversary Gifts and Recognition:
Get our Free eBook for more tips when starting or refreshing a Employee Anniversary gifts program:
Managers Guide to Employee Service Awards
---
Select-Your-Gift offers an easy to start, and easy to administer program that provides you with fast personal assistance, customized award presentation packets, no contract required, and no minimum order quantities. Plus all service award gifts are backed by our 100% employee satisfaction guarantee. We make employee recognition easy!
---
Get help to start your program - today!
Call now to talk to a Recognition Specialist
call 630-954-1287 (M-F, 8:30 am - 5:00 pm CST),
or
Use the form below to request FREE information.