Employee Anniversary Gifts - Recognition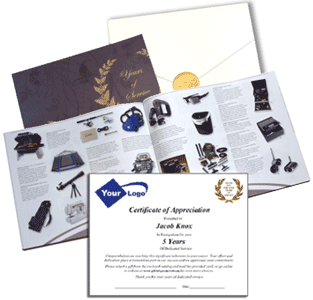 What makes a great gift to help employees feel appreciated when reaching their service milestones?
It's a gift they really want - so let them choose!
Select-Your-Gift's Service Anniversary Recognition Gifts allow employees to choose from a large selection of life-style gifts from the provided catalog, or online where they'll see an even larger choice of gifts.
Employee Anniversary Awards and its presentation by managers are excellent opportunities to acknowledge an employee's length of service. Whether your recognizing the completion of a new hire's on-boarding process, or at 5 year increments, recognizing an employee's loyal service will have a significant impact on morale and encourages continued loyalty by all.
It's Easy to express your appreciation for their service with personalized Years of Service Awards. Let us show you how with our easy to implement, and easy to administer program!

The value of your service anniversary gifts should vary with increasing lengths of service. Many companies will budget an average of $10 to $20 (or more) per year of service. When including recognition for the completion of an Onboarding program, give smaller recognition award packages. Also use these lower value award packages at the end of an employment trial period, or at the end of their first, second of third year of service.

The most important thing is take advantage of these shorter milestones by doing something special to tell employees their contributions and loyalty has been noticed and is appreciated.

Our employee service award gifts include everything needed for your presentation. Customize your recognition packets with many available options. Tailor the program to fit your budget by choosing an awards package for each service milestone. (17 price levels) No minimums, no contracts, and employee satisfaction with their gift is guaranteed.

What's included with each service anniversary gift presentation packets: See all of the package prices, customization options, and even see the egifts offered at each recognition award level.


or call us today.


---

The Presentation of Employee Anniversary Gifts:

When possible, the anniversary award package should be presented to employees in front of their co-workers by an immediate manager, or senior management. Take advantage of the presentation ceremony to offer praise and talk about the employee's recent achievements, contributions, and loyalty to the company.

See everything included with service anniversary gift packets.

---

Request a Free information packet
and we'll send a sample Employment Anniversary Gift Recognition packet, sample award catalogs, and a link to download our FREE eBook: Manager's Guide to Service Awards