Employee Service Awards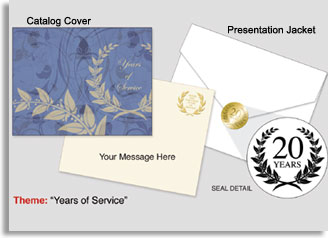 Recognizing your employee's loyalty to your organization with service awards is one of the most important and cost effective recognition programs you can offer. Your success depends on the dedicated efforts of the men and women who have provided years of service to your company.
We make quality employee anniversary recognition programs EASY for administrators with a variety of solutions to fit every need and budget.
With Select-Your-Gift, we'll help you start your new program, or we can show you how we can help improve your existing employee service recognition program, and, make your job easier! Contact us and we'll show you how.

Here are some reasons why it's important to celebrate employee service anniversaries.
The value of Employee Service Awards & Recognition:
Employees feel appreciated and valued when recognized for their service.
Retention and loyalty to your company improves when employees feel valued.
Employee Engagement levels and productivity improves with more Recognition
Anniversary Award presentations are perfect opportunities to highlight employee contributions.
The Recognition demonstrates your company's values and inspires the loyalty of others.
No other employee recognition program is more appreciated than Service Awards.
The lack of recognition is the main reason employees leave.
Service Recognition Programs are intended to reward employees for their commitment and loyalty to your company. When management recognizes and celebrates service milestones, it's appreciated by all, and raises everyone's morale. It shows that you care about them.

So, whether you are recognizing a new hire who just completed your onboarding process, or 1-year, 3-year, or 5 years or more of service, take these special opportunities show how much they are appreciated and valued.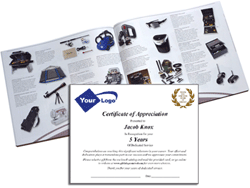 Select-Your-Gift makes it Easy!
Our easy to start, and easy to administer employee service award and recognition program includes an Award Presentation Packet with everything needed for your employee service award. See what's included

Many customization options are offered, and award catalogs are available in 17 price levels to fit every awards budget. No minimum order quantities, no contracts, and employee satisfaction is guaranteed. See details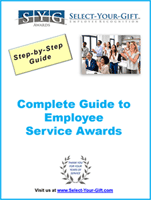 When planning a new program, or when updating an existing program, this Free eBook Guide to Employee Service Awards provides advice and tips for a more effective corporate anniversary program.
---
It's yours Free when you Contact us for more information

The Select-Your-Gift company specializes in employee recognition and incentive programs, and makes it easy for you to get started.

See more great solutions for Employee Recognition.