Select-Your-Gift makes it EASY to provide employees with quality Service Recognition Awards.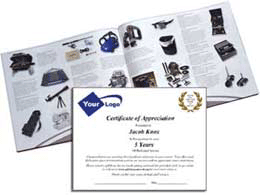 Whether you're just starting a new Service Award Program, or looking to update your existing program, we're here to help.
We make quality employee anniversary recognition EASY for administrators with a variety of solutions to fit every need and budget.
We'll start by sending you a sample Employee Award Packet, sample catalogs, information on options available, and how to get started. Our goal is make your job easier! Contact us today for details.
Recognizing your employee's loyal service to your organization is one of the most important and cost effective recognition programs you can offer. Your success depends on the dedicated men and women who provide long term service to your company.

---