Sales Incentive Contests - Sales Awards Packet info

Request an Information Package
Your free information package, sent via UPS, includes:
Sample Sales Award Catalog Presentation packet
Sample Award Catalogs for the value-range requested
Options available to customize your employee Award Presentation Packets
Pricing, order forms, and complete information to get started on your effective sales contests.
---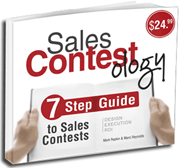 You will also receive this free gift!
Guide to Designing Effective Sales Contests - eBook
Upon submitting your request, an email will be immediately sent containing a download link to your free eBook.




Need to talk to a recognition specialist right away?
please call 630-954-1287 (Mon-Fri, 8am - 5pm, Central Time).
---
We will never sell or share your email with others. Select-Your-Gift sends periodic information about our Employee Recognition Services and updates. With each email, you can easily opt-out.