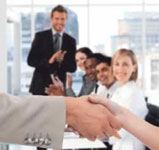 Recognition programs are vitally important tools companies can use to recognize and show appreciation to the people who have dedicated themselves to your organization's success.
Frequent effective Recognition helps your company create a culture of recognition to reinforce it's vision, mission, business objectives, and core values. Continually showing employee appreciation through a variety of recognition programs clearly says management cares about its people, and honors their loyalty and their accomplishments.
Let SYG help you create better, more effective recognition programs. Select-Your-Gift provides many easy to start and use solutions to recognize hard work, achievements, service excellence, efforts that go the extra mile, and holiday gifts. We'll help you recognize, motivate and inspire, with options to fit every recognition budget.