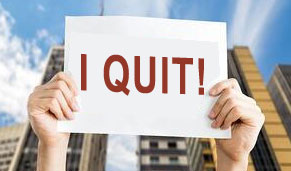 During 2021 and continuing in 2022, many are seeing an increased desire for employees to quit their job and seek a change. Previously, with the uncertainty during the pandemic, most people tended to stay put in their jobs. Now, as most restrictions are lifted, more workers are thinking about quitting their current jobs as they look for better opportunities, more meaningful work, or better work flexibility. The Microsoft Work Trend Index found that 40% of people want to change jobs this year. More US workers are quitting their jobs now than during any other time in the past 20 years.
Over 47 million Americans voluntarily quit their jobs in 2021, according to the U.S. Bureau of Labor Statistics. That is an unprecedented mass resignation from the workforce, that is now widely being called the Great Resignation.
To stop the exodus and even reverse it employers must know more about how their employee relationships are evolving. This knowledge with help companies make important changes to transform their organization into one that can not only can keep more of its staff, but will also be positioned to attract quality talent. So, what's driving people to quit.
What is Happening?
Everything has changed: Today, everything seems different. People have changed, their attitudes and interests have changed, and even how, when, and where they want to work has changed.

Hybrid-work: When the pandemic came, many companies began to allow more employees to work from home, or they offered hybrid work schedules, and people loved it! We are now seeing a great migration to remote and hybrid work schedules.

Dissatisfaction: Workers are dissatisfied with their jobs for many reasons, and its not only about money. Many employees feel disconnected or dis-engaged at work. They are feeling disconnected between their peers, their managers, the executive team, and even the purpose of the company itself.

When your staff doesn't have a sense of connection to their work, disinterest is inevitable. This disconnect leaves employees unable to see the point in what they are doing, and are willing to leave to find a more meaningful job.
Understanding The Reasons Why Employees Quit
In a 2019 study, prior to the pandemic, the Work Institute found the top three reasons for leaving a job were career development, work-life balance and the behavior and attitudes of their managers.

Now, with all that has happened in the world and to workers during the pandemic, employees have had a lot of time to consider their desire for a better work-life balance, and are looking for more meaning in their work.

Workers are also questioning how and where they want to work. A recent study by Prudential Insurance found that one in three US workers are dissatisfied, and no longer want to work in a job that requires them to be in the office full time. Some employees simply eliminate or reduced the hours spent on daily commutes.

During this deeply reflective period, employees have become more aware of how fragile life is. They are reexamining their jobs, the work they do, and how their work relates to their personal values. They want a job that has more meaning to them and provides opportunities that align with their personal and professional ambitions.
What Key Actions can organizations take to Retain and Attract Employees?
Listen to your employee's needs and concerns. Today's employees are seeking employers who will provide them with a more appreciative, empathetic, and caring environment. Employees also want more opportunities to grow personally, to have more meaningful work, and to be more involved in what, when and how they do their jobs. Employees want to feel valued and that the company sincerely believes its employees are primarily responsible for the organization's success.
Steps organizations can do now
Show you Care! Make employees feel your company cares about them. Give employees more meaningful work and more control over what they do, as well as when, where, and how they do their work.
Provide Career Gowth Opportunities. Employees want to take their careers in a new direction, but they need your suport and guidance, along with training to make these transitions possible within your company.
Address their concerns about a better work-life balance. The pandemic has made people place a higher value on their time. Things like their commute time to the office, and the number of days required to be in the office has become much more important to them.
Develop an effective Remote or Hybrid-work model that works for everyone (if it is possible for your company). Create a strategy that keeps your company moving forward while satisfying the needs of employees.
As you develop your work schedules, consider a Gallup survey that showed employees were the most productive when working remotely at least some of the time, but employees who worked from home all the time were more likely to suffer from burnout. Therefore, a hybrid-work schedule is preferred over an all-remote schedule for a better balance.
Consider How, When and Where work can be done. Create a set of guidelines and philosophies for how, when and where people should work, instead of rigid rules employees must follow. Employees should understand they could adjust your guidelines as appropriate, giving them the autonomy to do their jobs in the most effective way.
Communicate your changes. Inform current and prospective employees of your plans to develop or implement more flexible work schedules so it eliminates any uncertainty about your commitment.
Improve on-going communications: Listen more to your employees. Give them the means to be heard, and then acknowledge their ideas and input. Improve the way management communicates the organization's mission, goals, and purpose, as well as how you are currently doing, the challenges ahead, and what's needed to move forward. Make everyone feel involved by letting them know how they can help contribute to the organization's success.
The Importance of Employee Recognition. Finally, after making all of the above changes, be sure to incorporate Recognition Awards and Appreciation gifts throughout your employee retention strategy. One of the best drivers of employee satisfaction and retention is recognition. When employees feel noticed and recognized for their service and contributions, they will be more engaged, productive, and will stay longer.
The transition to Remote and Hybrid work schedules
According to a Forrester research report, about 70% of companies will start adopting flexible hybrid-work schedules, while acknowledging that it is not possible for every organization or job.
What is a Hybrid Work Schedule?

Hybrid-work refers to a flexible work schedule that combines on-site and remote work. This type of schedule provides for time in the office for one or more days a week, with remote work for the balance. Giving employees a mix of both in-office and remote work is good for the employee and good for the business.

Productivity Concerns with Remote or Hybrid schedules

Initially, many companies feared a loss of productivity as they began hybrid or remote working. However, recent research has eliminated that fear by showing that for most workers, productivity has either stayed the same, or has increased during their transition to remote work. Employee teams working remotely have also seen higher productivity, plus reduced overhead costs.
---

Most of the Recognition programs shown below can be used with either physical Gift Catalog Award packets, or by sending a Virtual Gift-of-Choices by Email.
See how you can provide meaningful gift-of-choice Gifts and Recognition VIRTUALLY to employees working remotely. It's Fast and Easy!


Select-Your Gift offers many easy Employee Recognition solutions ranging from a comprehensive Points-based Software Platform, to Award of Choice solutions - with options for either Physical Recognition Catalog Packets or a Virtual award-of-choice option which is sent via email. Tier-level based, gift-of-choice awards are perfect for Service Awards and all types of recognition awards, or for Holiday Gifts and Appreciation gifts for your employees or clients.
---

Employee Recognition Ideas: See these popular and easy ways to show Appreciation