Christmas Gifts Employees Really Want!
Give Holiday Gifts your employees really want and will appreciate! It's Easy - Here's how!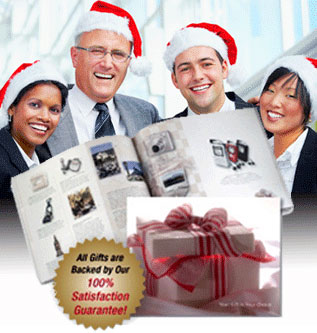 One of the pleasures of the Christmas Holiday season is the chance to show appreciation and say thank you to your employees for their hard work and dedication. Doing it effectively will make them feel honored and can increase their motivational levels.
But, don't make the mistake of giving all employees the same trinket, or small company branded items. Most employees feel that these types of Christmas gifts are of little value to them. You want them to say WOW!
This year, shake things up a bit, and surprise employees by giving them a choice of their Christmas Gift.
Employees will get something they would like and actually use! The key to making the holiday gift experience more meaningful is letting employees choose it for themselves.
We make it easy by providing you with Holiday Packets prepared with your company's special message, and a Gift Catalog and online redemption. We take care of everything! Now you can improve the Employee Holiday Gift experience, and make your job easier.

Just give employees the prepared Christmas Gift Packets, and you're done! Recipients select from a large selection of lifestyle gifts, and we quickly ship it directly to them - with NO additional charges. Everything's included for one low price per package level.

Soon, you'll hear your employees say "Hey, I really like this gift. Thank You!"
Select one of the tier-level-based Employee Holiday gift packets, based on your company's holiday budget.
Provide us with your company's personal message and company logo.
We'll prepare and send the packets to you for distribution to the employees.
If you need us to mail each packet, we can do that too. (ask for details)

Get started now!
Take the first step - Get a free sample Employee Holiday Gift packet - TODAY!

We'll rush you a free information packet, including an actual Employee Holiday Gift packet so you can see exactly what each employee will get. We'll include some level based catalogs, sample Holiday-themed customization options, and easy ordering information about Christmas gifts for employees.

---

We offer many package levels starting as low as $20 COMPLETE!
See all levels, prices, options, and more detailed information.
For one low price for each Gift-package-level,
everything described above is included, plus:

Employee Holiday Gift Catalogs will not expire
All holiday gifts for employees are backed by our satisfaction guarantee
Shipping of gifts is included within lower 48 US
Toll-free support for employee ordering assistance, or order status questions
Administrators can track your Gift Program with Redemption Status Reports provided in Excel format

---

Employee Holiday Gifts - Catalog Packets

Employees can choose their special gift in the comfort of their home.

For Pricing and more details,
see all catalog levels and prices