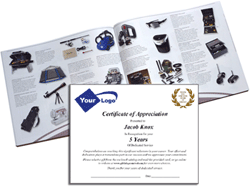 An anniversary gift and certificate is the perfect recognition to show employees you value their dedicated service and contributions.
Select-Your-Gift makes Service Awards easy, and can help you create the perfect service recognition program for your valued staff. With quality Gift-of-Choice Award packets, we make it easy for you to show appreciation by letting employees choose their own special gift.
Our easy to start, and easy to administer program includes a Service Award Presentation Packet with everything needed for your recognition award. See all that's included with each award.
Contact us today to get started. We will start by sending you a sample Employee Service Award Packet, sample gift-of-choice catalogs, information on how you can tailor your award packages, plus pricing. Your dedicated recognition specialist will provide assistance and be your main point-of-contact.
Select-Your-Gift wants to make your recognition job easier! Get started now!