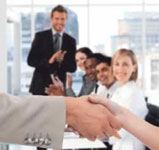 The following provides employee service award and recognition ideas, in preparation for the first step in the Guide to Employee Service Awards.

Here, we present various ideas to recognize employees for their service milestones. Some service recognition provides tangible gifts, while others are very low, to no cost. The act of recognition itself often has the most impact.
For new Hires completing your On-boarding process.
This is your first opportunity to make a great first impression on your newest employee. Recognize this important milestone and welcome them into your family with low-cost recognition such as: a Letter or certificate presented by management, a listing or article in your newsletter, or a welcome lunch with their manager.
If your budget allows, give a low-cost Gift-of-their-Choice Award Packets (complete packages are available for as low as $20 each).
Awards for Years of Service.
Service recognition provides an award given to an individual for meeting a predetermined service milestone. Four different service milestone categories are addressed in this guide.
The most thing is to give awards the employees want! Surveys show that over 95% of employees would rather have practical, life-style merchandise items they can choose for themselves, rather than just a plaque, or an item selected that's selected for them.
Select-Your-Gift make this easy with Service Award Presentation Packets that allow employees to choose their own gift.
Presenting Years of Service Award Packets to employees makes the recognition feel special. Later, in the comfort of their home, employees can review the provided catalog, or go online to make their selection.
Complete Packages are available in many price levels. Match each of your service milestones to the appropriate Award Package levels, based on your budget.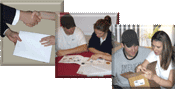 Redemption is easy: Employees use the provided catalog and mail-in card, or they can view the equivalent catalog online to redeem, or they can call (toll free) to order or get assistance. The online catalog shows many additional award selections. Selected years of service awards are sent directly to the employee's home.
Click next to continue reading the Guide to Employee Service Awards

Prev: Recognition for Retirement Next: New Service Award Program
Or, see Service Award Guide's contents (List of Topics) to jump to specific topics
---
Call now to talk to a Recognition Specialist
call 630-954-1287 (M-F, 8:30 am - 5:00 pm CST),
or
Use the FORM below to
request FREE information.