To begin the Manager's Guide, let's define a Service Award
Employee Service Awards are unique awards given to employees who have worked for a particular length of time or a specific number of years. Typical recognition includes an award and letter, or certificate, showing appreciation for their loyal service. They're also called milestone awards, service anniversary awards, on-boarding awards, tenure awards, years of service awards, or retirement awards.
Service Awards allow employers to thank their valued employees!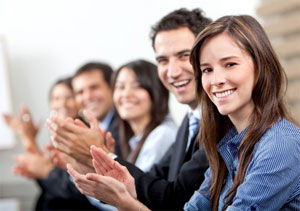 Service Awards show employees you appreciate and recognize their loyal service and the significant contributions they make to your company. Beginning with On-Boarding and ending with retirement, Employee Service awards typically increase in value with the length of service being recognized.

Ask any employee how long they have been at their job – they know to the day! Service anniversaries are important to them as well as to you, and your recognition of their service makes a big difference to them! The benefits of this type of recognition include improved: morale, engagement and productivity, loyalty, and retention.
When you recognize an employee for their service (quantity of their service), do not miss this perfect opportunity to talk about their significant achievements and contributions to the company's success (quality of their service). This is especially valuable when done in front of the employee's peers.
A Service Recognition Program is a valuable component to an organization's comprehensive recognition plan, and provides great opportunities to recognize employees for the time they have invested in your company.
According to a SHRM* survey, almost 80% of the employees surveyed said the lack of appreciation and recognition was one of the main reasons they would leave their current job.
* SHRM - Society for Human Resource Management
Remember, there's no such thing as too much recognition!

Click next to continue reading the Guide to Employee Anniversary Awards

Page-1 of Service Award Guide History of Service Awards
Or, see Service Award Guide's contents (List of Topics) to jump to specific topics
---
Call now to talk to a Recognition Specialist
call 630-954-1287 (M-F, 8:30 am - 5:00 pm CST),
or
Use the FORM below to request FREE information.