Step Two - when planning your Service Awards Program - what about previously missed Service Milestones
This step of the Guide to Service Awards deals with the sensitive issue of Service Milestones missed prior to your program's start date.
It's important to consider what you should do about any past, unrecognized service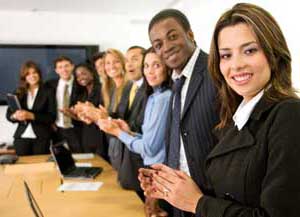 milestones. Obviously, there has to be a starting date set for your new employee service recognition program.

Since the purpose of your new Service Award program is to demonstrate that the long service of your employees is valued, most organizations find it appropriate to recognize all who have reached a service milestone prior to the start of your new service recognition program.

To not do so may cause the employees with missed recognition to be unhappy and resentful with your program, actually reducing morale.
Here's a solution for missed service milestones
For all employees who recently passed a defined milestone, give an award for their last missed milestone, while excluding employees who will reach a new milestone in the first year of your new program.
Include these catch-up employee milestone awards when starting, and have management present them, along with the others, in meaningful presentations.
Be sure to include any additional one-time expense for these Catch-up awards when setting your First-Year Service Award budget, discussed later in this guide.
See the next Step when creating your program - Determine the spend for each service milestone.
Click NEXT to continue reading the Guide to Employee Service Awards
Prev: Create your new Awards Program Next: Awards for each Milestone
Or, see Service Award Guide's contents (List of Topics) to jump to specific topics
---
Call now to talk to a Recognition Specialist
call 630-954-1287 (M-F, 8:30 am - 5:00 pm CST),
or
Use the FORM below to request FREE information.