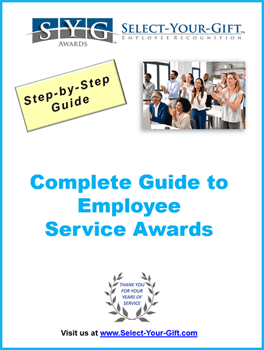 This online Guide to Employee Service Awards, and it's companion PDF version (for offline reading **) are offered to help you plan, budget, implement, and manage an up-to-date, successful employee service awards program.
Start reading the guide now.

The online version makes it easy to explore each aspect of Employee Service Recognition, by either reading the online pages using Next and Previous buttons, or by using the table of contents listed below to see just the topics of interest.

We hope you find these recognition program tips helpful and will contact Select-Your-Gift to get more information and personal assistance to get your program started.
---
Topics in the ONLINE Guide
to Employee Service Awards
- Click on a Topic to jump to that Page -
---
Whether you're planning a new service anniversary program, or updating an existing one, please Contact us today.
We make recognition EASY!
Upon your request, we'll send an actual Service Award Presentation packet, award catalogs, and information to get started. **You will also receive an email with a link to download the eBook version of this guide
Call now to talk to a Recognition Specialist
call 630-954-1287 (M-F, 8:30 am - 5:00 pm CST),
or
Use the FORM below to request FREE information.