Employee Recognition
is important to success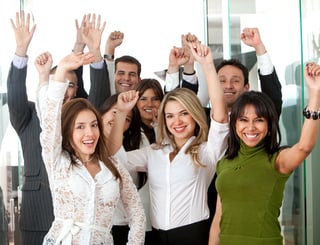 Employees want to be appreciated and recognized for their service and efforts. If not, they are very willing to leave their jobs. One of the components tracked by the US Department of Labor, is the number of voluntary separations initiated by employee (these are the employees who just quit).
In surveys taken to determine why so many employees were quitting, one of the reasons most often cited was the lack of recognition by management. This was a clear demonstration of the importance of recognition.
A study conducted by the Gallup organization identified the top factors that describe the best companies to work for. High on the list of desirable factors was Employee Recognition. According to this study, the essential building blocks of a great workplace environment are praise and recognition.

An article from the FORBES site, states that companies scoring the highest for having a recognition-rich culture, had an almost 30% lower voluntary turnover rate! The benefits of employee recognition are huge!
Employees need to feel connected to your organization, and that they're contributions are making a difference to your mission's success. Communication and recognition helps employees see that they are part of something larger than just their job.
Recognition is essential to employee morale and helps reinforce your organization's vision, business objectives, and core values. Recognition, done in many ways, clearly sends the message that management recognizes the value and importance of their people to the organization's success, and honors employee loyalty and contributions.
No single recognition program can do it all!
Continual Recognition is vital to your success.
A corporate strategy that provides continual employee recognition means your overall plan includes many ongoing incentive and recognition components - all working together to help boost morale, help employees feel appreciated, motivated, and to be more engaged.
Each additional recognition component included in your strategy provides more opportunities for management to motivate employees to higher levels of performance and loyalty to your company. Examples of a few possibilities are: New Hire Onboarding Process, Length of Service Awards, Attendance Awards, Sales Recognition, Safety Recognition, Peer-to-Peer Recognition, and Spot Recognition for outstanding performance.
Continual Recognition is an effective and proven strategy to improve the following key areas:
Employee Engagement: When employees feel more involved, appreciated, and empowered, they will have improved morale, be more productive, and stay longer.
Productivity: Studies show - companies with engaged employees are almost twice as productive as their competitors.
Retention: A continual recognition strategy helps keep employees excited about their job.
---

Click next: Guide to Employee Recognition - Types of Programs


---

Contact Us Today - We make it EASY to get your employee recognition started.

Or call 630-954-1287
(M-F 8:30 - 5pm CST)

Select-Your-Gift will work closely with you to develop and manage efficient, effective and cost-saving recognition solutions.