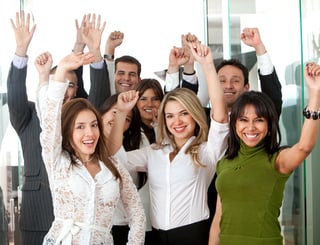 Employees want to be appreciated and recognized for their service and efforts. Employee recognition is not optional! It's a valuable and essential tool that successful companies use to improve employee engagement, morale and retention.
Providing employees with recognition sends a strong message that your company values them and their important contributions to your organization's success.
Why do employees quit? In exit interviews with employees who were voluntarily leaving their jobs, the reason they most often cited was management's lack of appreciation and recognition.
What do companies rated the best to work for do differently?
A study conducted by the Gallup organization identified the top factors in the best companies to work for. High on the list was Employee Recognition. According to this study, the essential factors of a great workplace environment are employee praise and recognition.
The Value of Employee Recognition and the Benefits: An article from the FORBES site, states that companies scoring the highest for having a recognition-rich culture had almost a 30% lower voluntary turnover rate! The benefits of employee recognition are huge and essential to improving employee morale.
How to implement a
successful Recognition strategy!
A comprehensive Employee Recognition Strategy is needed. Just one recognition program is not enough!
To achieve the maximum benefit for the company and employees, create a Culture of Recognition. That's done by implementing many incentive and recognition components - all working together to recognize, show appreciation, motivate and boost morale. Together, these programs will help employees feel appreciated and be more engaged.
Each additional recognition component you include in your strategy provides more opportunities to motivate employees to higher levels of performance and loyalty.

Employee Recognition Ideas include: New Hire On-boarding Process, Years of Service Awards Programs, Safety Awards, Sales Awards, Spot Awards, Holiday Gifts and Points-based programs that may cover many of these components.

Continual Recognition - is a proven strategy organizations should implement to improve the following key areas:
Employee Engagement: Frequent recognition helps employees feel more involved, appreciated, and empowered. Results: improved morale, more productive, and improved retention.
Productivity: Studies show - companies with engaged employees are almost twice as productive as their competitors.
Retention: A comprehensive and continual recognition strategy keeps employees excited about their job.
Improved Loyalty recognition helps employees feel they're part of something larger than just their job.
Reinforces your organization's vision, business objectives, and core values
---
Click next: Guide to Employee Recognition - Types of Programs

---
Contact Us Today - We make employee recognition EASY.
Call to talk to a Recognition Specialist
630-954-1287 (M-F, 8:30 am - 5:00 pm CST),
or
Use the FORM below to request FREE information.
We'll quickly send a package of information, and our team here at Select-Your-Gift will work closely with you to develop and manage efficient, effective and cost-saving recognition solutions.