To better understand the importance of recognition in the workplace, it helps to take a quick look at the beginnings of our country's workplace recognition. Where did employee recognition get started, what did it look like, and who received it, and when.
During the Industrial Revolution, workplace studies were done to see what motivated employees the most. At that time, most employers thought that a paycheck and the promise of continued employment was all that an employee needed to stay motivated. Others thought that their employees would be more productive and more loyal to their company if they paid them more than other companies.
After extensive studies, researchers found that positive reinforcement had the most dramatic effect of employee behavior, and that was the beginning of employee recognition and rewards.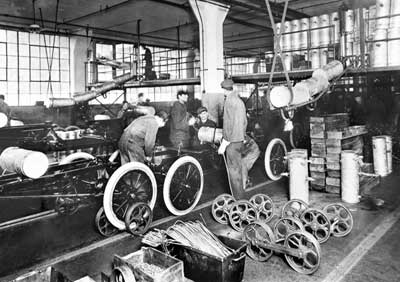 Recognizing Employees for a Service Anniversary also had its beginnings during the Industrial Revolution. At that time, the only employee recognition program was for appreciation awards given after 25 years of service, or just at an employee's retirement. Since then, the employee service award program has evolved in many ways, and is now the most popular employee award program in use today.

Management has long realized the impact recognition can have on its valued employees. In fact, the first recorded act of using recognition to motivate employees occurred over 2,600 years ago. Cyrus the Great used recognition to motivate his construction workers. His recognition included a shoulder pat, a beverage, and a coin featuring Cyrus' head. (from hrotoday)
Service Awards are a celebration for both the employee and their company!
During the Industrial Revolution most companies regarded their older, long term employees with great respect. Recognizing an employee after they reached 25 years of employment was a celebration for the company. The employee's long service was an acknowledgement that the company was a good place to work and deserved their long and loyal service.

When a company could show they were successfully retaining their employees for a long time, others viewed that as an indication that this was a good place to work. This helped create a positive reputation when recruiting new employees.

Retention was very important! At that time, manufacturing companies had to invest in their new hires by providing extensive training for the mostly low-skilled employees. Therefore, it was important to keep their employees on the job for many years. To help employees feel valued and to stay longer, companies began using Service Awards, and Retirement Awards to show their appreciation to their long term employees.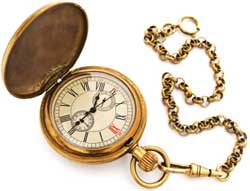 For many of those companies, it was an accepted tradition to present employees with an award after 25 years of service, which was typically a very nice gold pocket watch.

However, getting a service award after 25 years, or an award at retirement, was usually the only recognition employees ever received for their long and dedicated service to the company.
Click next to continue reading the Guide to Employee Service Awards

Prev: What are Service Awards - a Definition Next: What's the Value Service Recognition
Or, see Service Award Guide's contents (List of Topics) to jump to specific topics
---
Ready to Start? - Here's the first step to getting your Employee Service Awards Program started!
Call now to talk to a Recognition Specialist
call 630-954-1287 (M-F, 8:30 am - 5:00 pm CST),
or
Use the FORM below to request FREE information.