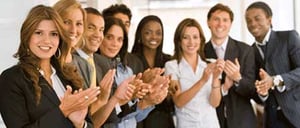 Select-Your-Gift, can help your company implement an effective Years of Service Recognition Program. One that is easy to start, easy to use, and will stay within your budget.

As one of the largest Employee Service Award Companies in the US, we offer many tailoring options for your program, and always provide you with fast, personal service.
Recognizing years of service is the most cost effective employee program you can offer, and is a valuable component to your combined efforts to create a culture of recognition in your organization.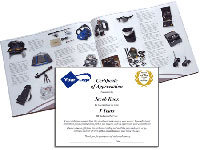 No other employee recognition is more appreciated than Service Awards. Years of service recognition, along with an award and certificate of appreciation, shows employees you recognize and appreciate their loyal, dedicated service and the valuable contributions they have made.
---
Let us show you how we make Years of Service recognition Easy!



Get started Now! Contact us for details and we'll send
a free sample award packet.
---
Years of Service recognition programs are changing... Today, employees expect to be recognized for their service much sooner:
Traditionally, service milestone recognition begins at 5-years, then at 5-year increments thereafter. However, for many younger workers, waiting 5 years for the company's first acknowledgement of their service is too long. Today, these employees need much earlier recognition to feel they are making a contribution, and are valued by the organization.
These employees want to make a difference in your organization, and for those efforts, they expect recognition much sooner. A delay for these younger employees greatly increases the risk of losing very talented people. If they don't feel appreciated, they'll move on.
Given these changes, many companies have added Early Service Recognition, including On-Boarding programs with rewards and recognition at the completion of defined probationary - or training periods, and include recognition for 1 year and 3 year service milestones.
Earlier length of service recognition is something every company should consider adding to their plans. The investment to add earlier service recognition will be minimal, compared to the benefits of having even one employee stay longer.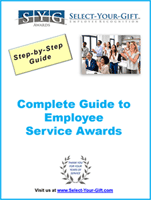 We want you to have this Free eBook Guide to Employee Service Awards.

It offers tips and practical advice when starting or updating a Years of Service Recognition program.

Get it when you request information - below.
---
Select-Your-Gift makes it easy! Contact us today - we'll review your requirements, and help get you started with fast personal assistance, customized award presentation packets, no required contracts, and no minimum order quantities. Plus all service award gifts are backed by our 100% employee satisfaction guarantee.
---
Get started today!
Call now to talk to a Recognition Specialist
call 630-954-1287 (M-F, 8:30 am - 5:00 pm CST),
or
Use the form below to request FREE information.