Years of Service Recognition
Recognizing years of service is the most cost effective recognition program you can offer, and is a valuable component to your combined employee recognition efforts.
No other employee award is more appreciated than Service Anniversary Awards. A years of service award along with a certificate of appreciation will show employees you recognize their loyal, dedicated service, and the contributions they have made. Let us show you how we make service recognition Easy!
Select-Your-Gift, can help your company implement an effective Service Recognition Program, that's easy to use, and will stay within your budget. As one of the largest Employee Service Award Companies in the US, Select-Your-Gift offers many program options, along with fast, personal service.
Many organizations are seeing significant gains in employee morale and engagement through the effective use of this Years of Service award program.
Please click below to get Free information, and a sample employee awards packet.
Today, employees expect to be recognized for their service much sooner:
For many younger workers, the standard 5 year increments for employee length of service recognition does not provide an early enough opportunity to be recognized and motivated. These employees want to make a difference in your organization, and they expect to be recognized much sooner for their efforts and loyalty. A delay for these younger employees greatly increases the risk of losing very talented people. If they don't feel appreciated, they'll move on.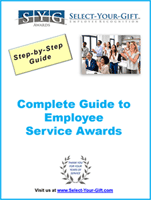 Given these changes, many companies have added Early Service Recognition, including On-Boarding programs with rewards and recognition at the completion of probationary - or training periods, and have expanded their years of service awards program by adding recognition for 1 year and 3 year milestones.
Earlier length of service recognition is something every company should consider adding to their plans. Showing early appreciation to new members of your staff is a great way to build morale.
The investment to add earlier service recognition will be minimal, compared to the benefits if longer service results. Compare the extra cost of early service recognition, to the cost to turn over even one person.
If you're planning a Years of Service award program, or updating your existing program, we want you to have this Free eBook Guide to Employee Service Awards. It offers practical advice on starting an effective and successful corporate anniversary gift program.
---
Contact us now to get the FREE Service Award eBook, plus we'll send a sample Years of Service Award packet, sample gift-of-choice catalogs, and starting information.

Employee Service Recognition Awards include a Presentation Packet, Gift-of-Choice Catalog, and everything needed for your award presentation.

Many customization options are offered for employee recognition, and award award packages are available in 17 price levels, fitting every budget. No minimum order quantities, no contracts to sign, and employee satisfaction is 100% guaranteed.

For more detailed Years of Service information see:
Service Award Presentation Packets

---

See more great solutions for Employee Recognition.