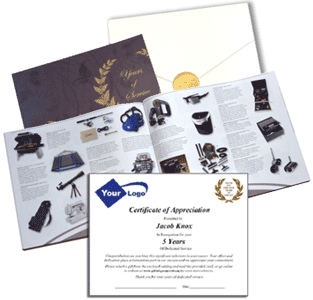 Recognize employee length of service with gifts they prefer - one they can select for themselves!
When a company decides to start or update their Employee Recognition Strategy to include formal recognition for length of service, Human Resources is often tasked with putting together a recognition committee to come up with ideas and suggestions.

The goal of the employee recognition committee is to create a recognition program that will help improve employee engagement and morale; create a better workplace to attract and retain key employees; elevate productivity; and reduce employee turnover.
One of the team's major decisions is what awards should be provided to the employees for their years of service, their dedicated hard work, and their significant accomplishments. To create the most effective employee recognition program, many organizations make a point to tie this recognition and its award to their company's core values.
Committee decisions are key to your program's success, and its potential to improve employee engagement.
To have a positive impact and create the best employee experience with service recognition, consider allowing the employee to select their own recognition award. As part of your formal recognition, present the employee with a gift catalog so they select something they prefer!
Studies show that employees love this type of gift, and will thank you for allowing them to choose their own work anniversary gift from a level based collection of great items. Many catalog collections are available at price levels designed to fit each of your service milestones, while staying within the budget of your recognition program.
How it works: During the formal recognition, present each employee with a personalized service recognition packet. The employee selects one item from the provided catalog - or online, and submits their redemption order. The item is sent directly to the employee, making this a very easy solution to provide high quality service anniversary recognition.
---
A quick overview

Employee receives the Service Recognition Award Packet.

Each customized packet contains an Gift Catalog of awards, along with an award certificate. Your certificates can be personalized with the Employee's name, company message and logo. Redemption instructions are included. Toll-free assistance is provided.

Employee selects their own gift from a wide range of quality name brand life-style items in the comfort of their own home.

Included instructions encourage online redemption where they'll see almost twice as many items to choose. Redemption options: redeem online, call toll-free, or pre-paid postcard to mail in their redemption choice.

Employee Service Award Gifts are shipped directly to the individual.

Shipping of each redeemed gift is included in the Service Award's Package price (within lower 48 US), and your Employee's satisfaction is 100% guaranteed.

See Service Award Packet details.
---
Click next to continue reading the Guide to Employee Service Awards

Prev: Service Award Enhancement Options Next: Getting Started
Or, see Service Award Guide's contents (List of Topics) to jump to specific topics
---
Call now to talk to a Recognition Specialist
call 630-954-1287 (M-F, 8:30 am - 5:00 pm CST),
or
Use the FORM below to request FREE information.