Make your Employee Milestone Recognition Awards as unique as your organization.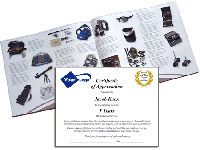 Select-Your-Gift can provide your organization with many high quality options for your service anniversary awards and to enhance the award presentation packets.

Our most popular options are:
Service Award Package level choices: Select the award level that fits each of your service milestones. Many price levels are available. (see all levels)
Awards Catalog Covers: Use our standard Service Award cover, or select another (see all choices)
Award Certificate Stationery: use our standard Years of Service stationery, or see available options.
Certificate Printing: Choose a printing option for your personalized employee award certificates: you can print them, or we can print for you - with your logo, message and each employees' name. Many stationery options are available.
Award Package Closing Seals: you can select the anniversary milestone (1, 3, 5, etc) for each package closing seal. Service Award closing seals are gold stamped.
Award Packet Delivery: We normally ship all employee award packets to you for distribution. If needed, we offer a service to optionally mail packets to your employees' homes, using your provided excel files of names / addresses.
Additional options are include: Certificate holders, framed certificates and presentation boxes, or a customized award redemption site – showing your company's logo and a message employees can see when they redeem their award.
Why Gift Catalog Award Presentation Packets?
Employees love them because they can choose their own gift! And...
You'll love them because you can select the value based on each service milestone and your budget. With each award level, everything is included, even the shipping of the award (within lower 48 US). With 100% Satisfaction Guarantee! We make it Easy!
---
Click next to continue reading the Guide to Employee Service Awards

Prev: Presentation Tips Next: Service Award Gift-of-Choice packets
Or, see Service Award Guide's contents (List of Topics) to jump to specific topics
---
Call now to talk to a Recognition Specialist
call 630-954-1287 (M-F, 8:30 am - 5:00 pm CST),
or
Use the FORM below to request FREE information.