25 Years of Service has long been recognized as a very significant milestone. Many companies celebrate this anniversary with a special recognition event.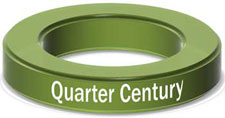 To insure this special milestone stands out, consider integrating a unique and special event into your service recognition program for those loyal employees reaching 25 years of service.

This special celebration event should bring the employee a sense of pride, recognition and a special status in your organization.
The recognition award for 25 years of service may have the same incremental value as regular service milestone awards, or you may choose to give a higher value.
Most important, is to include additional recognition, such as a luncheon with senior management and a framed "Quarter Century of Service" certificate, presented in a formal presentation box, along with their award packet.
Some companies (such as IBM Corp) have also incorporated the club concept to this special milestone. Only employees reaching 25 years of service are eligible for membership into the Quarter Century Club.
Additional recognition ideas to celebrate 25 year anniversaries could include an invitation to a special annual event with senior management, or they may receive special periodic mailings.
Click next to continue reading the Guide to Employee Service Awards

Prev: Traditional Service Milestones Next: Retirement Recognition
Or, see Service Award Guide's contents (List of Topics) to jump to specific topics
---
Call now to talk to a Recognition Specialist
call 630-954-1287 (M-F, 8:30 am - 5:00 pm CST),
or
Use the FORM below to request FREE information.