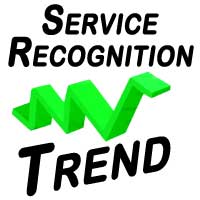 As we continue the Guide to Employee Service Awards - Let us look back at the History, and the Value of Service Awards.

Service Recognition Programs of today have become the most popular and most used type of employee recognition. Also, many of the components of service anniversary recognition has evolved to meet the needs of changing workforce demographics. Here are a few of the trend changes:
Trend Change: the Type of Awards Given
The type of Gifts given for Length Service recognition has evolved. During the Industrial Revolution, it was common to get a Gold Watch either at 25 years of service, or at retirement. That watch was often the only recognition provided for long service. That slowly changed to service awards being given at other milestones, but management still pre-selected the employee's gifts, giving things such as plaques, pins, or a mantel clocks.

Today, the most common type of award is a gift of their choice, where a catalog (and its online equivalent) is presented to the employee - in a service award presentation packet. These allow employees to choose the gift they'll use, prefer, and appreciate!
Trend Change: Service Award Frequency / Intervals
Initially, service recognition was generally only provided after 25 Years of service, or only at retirement.

Today, it is the industry standard to recognize employee milestones beginning at the 5th service anniversary, and then at each five year increment thereafter. Enhanced recognition for retirement is also common today.
Trend Change: adding EARLIER service recognition (1, 2 and 3 years)
The previously stated industry standard service milestones (beginning at 5-years) worked fine until the Generation Y employees came in the work force (born from 1978 to 2000).

The typical Gen Y employee tends to stay at a company for much shorter times, with the average of less than 5 years. (according to the US Dept. of Labor).

Since standard service recognition begins at 5 years, many of these employees were not being recognized, which greatly increased the risk of losing these talented people. Employees want to make a difference in the companies they work for, and expect to be recognized for it. However, if they don't feel appreciated, they're very willing to move on.

Today, given these demographic changes, more companies are now offering awards with increasing frequency, adding Early Service Recognition, beginning at 1, 2 and 3 years. According to a recent SHRM survey, 28% of companies now celebrate first year service anniversaries.

Need help calculating Employee Milestones? Get our FREE Length of Service Calculator!
Click next to continue reading the Guide to Employee Service Awards

Prev: Value of Service Awards Next: Service Award Categories
Or, see Service Award Guide's contents (List of Topics) to jump to specific topics
---
Call now to talk to a Recognition Specialist
call 630-954-1287 (M-F, 8:30 am - 5:00 pm CST),
or
Use the FORM below to request FREE information.