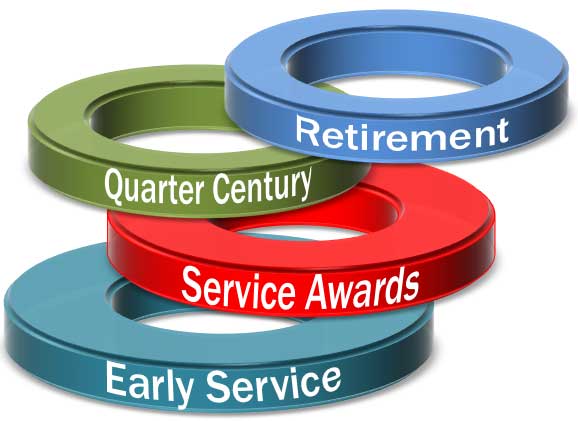 Today's years of service recognition programs have evolved, and are greatly expanded and improved from their humble beginnings during the industrial revolution times.
While standard service milestones, starting with the fifth year of employment, worked fine for a long time, today's employee demographics require changes to the frequency, the type of awards, and how we should recognize loyalty and service.
Many companies have expanded their Employee Service Recognition Programs to include the following categories:
Earlier Service Recognition (before 5 years, typically 1, 2 and 3 years)
Standard Service Milestone Awards (starting at 5 years)
Quarter Century Recognition (with a special event and gift at 25 Years)
Retirement Recognition

The following pages will explore each of these Service Milestone categories in more detail. Review each to see which should be included in your new Service Award program.
Click next to continue reading the Guide to Employee Service Awards

Prev: Service Award Trends Next: Earlier Service Recognition
Or, see Service Award Guide's contents (List of Topics) to jump to specific topics
---
Call now to talk to a Recognition Specialist
call 630-954-1287 (M-F, 8:30 am - 5:00 pm CST),
or
Use the FORM below to request FREE information.