Select-Your-Gift makes it EASY to provide employees with quality recognition and a Choice of the Gift.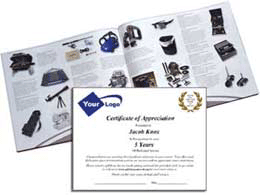 Whether you're starting a new Employee Service Award Program, or updating an existing one, Select-Your-Gift can help design, implement and administer your program.
Our goal is to make quality employee anniversary recognition EASY for administrators with a variety of solutions that can fit every company's award budget.
Contact us today to get started. - When you contact us, we'll send you a sample Employee Service Award Packet, sample gift-of-choice catalogs, information on tailor your award packages to be unique to your company, pricing, and how to get started.

Select-Your-Gift wants to make Employee Recognition easy for you!

---