Select-Your-Gift makes it EASY to provide employees with quality recognition.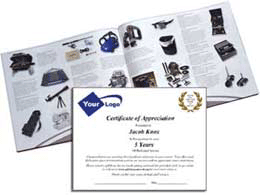 Whether you're starting a new Service Award Program, or updating an existing one, your dedicated recognition specialist can help design, implement and administer your program.
Our goal is to make quality employee anniversary recognition EASY for administrators with a variety of solutions that can fit every company's budget.
Contact us today to get started. - When you contact us, we'll send you a sample Employee Service Award Packet, sample gift-of-choice catalogs, information on tailor your award packages to be unique to your company, pricing, and how to get started.

Select-Your-Gift wants to make Employee Recognition easy for you!

---