Employees Gifts for Christmas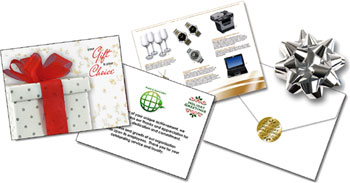 Giving your employees company Christmas gifts sends them an important message that each member of your organization is important, valued and appreciated!
To make the largest impact with your gift, you want to give employees a something they want, and will actually use. The best way to do that, is to give a gift they can choose for themselves!
Click below to see a short video showing how easy it is to give each employee the perfect Christmas gift! One they can select.
Take the guess-work out of your Employee Holiday Gifts. Fits every Budget!
If you're looking for the perfect employee Christmas gift idea for your company, you've found it!
We make it easy with Employee Holiday Gift-of-Choice Packets prepared with your company's Holiday message and logo. Each Holiday Gift Packet includes everything needed to present your special gift. Plus, all gifts are backed by our 100% satisfaction guarantee.

Click Below to see this short video showing what's included and how you can easily customize your Christmas Gift Packets.
With this easy, ready-to-go solution, your staff can choose their own gift. It's the best way to give a gift that's sure to make each employee smile.
We can help by taking the hassle out of trying to find and purchase the perfect gift that every employee will like.

With Holiday Gift Packets, you simply decide how much you'd like to spend for each gift (choose from many price levels - starting as low as $20 complete). Recipients select their Gift, and the gift is sent directly to them.
After selecting the price level for each packet, you can select one of our holiday-themed cover options. Also choose your holiday stationary and then provide your company message and logo and we'll create the ultimate employee Christmas gift packet.
Click here to get more information about this Employee Holiday Gift Program.