Employee Point Program Benefits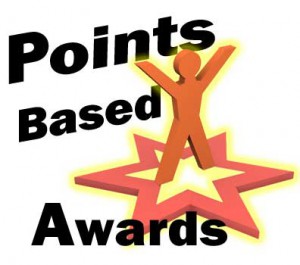 A points-based reward system for employees could be perfect for motivating your organization.
If you're planning to reward employees for many different actions - over time, and allow them to receive and save point-rewards, to be redeemable for merchandise awards, then you are at the right place.
We offer different options to fits your needs and budget.
A point based reward system for employees allows for many ways to get people excited and engaged while giving management easy-to-use tools to acknowledge employees.
To help you decide if this type of employee point reward system is what you're looking for, please review some of the features of Select-Your-Gift's Points Program, and the benefits available to your company. Note: The following describes our fully online program. Also see our lowest-cost paper-based employee points programs
Employee Points Recognition Platform - Features and Benefits:
Online, flexible and scalable platform allows you to bring all your recognition initiatives under one comprehensive management tool.
Provides a user friendly, intuitive experience for both management and your employees. This reward point system for employees allows for quick implementation.
Hierarchy Editor allows different business areas, locations, and departments to all use the same platform, but independently budget and fund points for their own purposes.
The budget tool provides controls for all corporate spending dollars by the hierarchy. Create budget segments by locations, or departments as needed.
Report Center: Over 45 reports are available to help administrators manage your program. Create a variety of reports in a number of formats, including on-screen review and exports to Excel.
Communication Center: Built-in Communications module provides the ability to post web-based news articles, post news feeds, send automated welcome messages at program launch and to new program participants, targeted e-mail blasts, and even set article publishing/expiry dates in advance.
Program management and tracking is accessible by both the leadership team and "permission-based" local level administrators. Administrators can easily add points for safety, performance based initiatives, and more.
Service Award Module: Provides a fully automated Service Award tool to control the allocation and distribution of pre-determined points based on an employee's service milestone (month or year).
Member Experience: Each employee has their own online account to track their point-bank, including point balance, points earned and points redeemed. The DreamTracker feature shows a progress bar indicating the points earned toward the member's "dream" item.
Lifestyle Merchandise: Huge selection of merchandise awards - redeemable for accumulated points, keeps employees motivated. Also allows for Global Fulfillment of Lifestyle Merchandise.
Certificates: Provides printable certificates that can be customized with graphics, colors and your text messages so that you can start rewarding employees.
On the SPOT recognition: The system can generate unique serial numbers that are equated to designated point values. Once printed on cards, they can be given to reward employees. Employees can log in to self-claim the award.
Survey Feature: Allows you to gather feedback on the participants in your program. Participants in this employee point reward system can be targeted based on your hierarchy.
The above only list some of the many features available with an employee rewarding system. To better understand how Select-Your-Gift's Points-based Employee Engagement Platform can benefit your organization, please contact us today for more information on our point based incentive programs
We will forward additional information and at your convenience we can schedule a webinar to show you how it all works.