Employee Points Programs - defined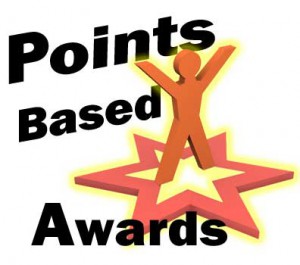 Points-based employee reward programs are powerful and exciting motivators, allowing management to reward employees with Points for their performance, and other desired actions.
In this type of recognition program, employees usually will have multiple opportunities to earn points for their various achievements.
Points based employee reward programs can utilize either a fully online system, or a simple paper-based option (not using an online system). Regardless of which system is used, the goal is the same: award points for desired activities, and allow those points to be accumulated and spent on merchandise awards of the employee's choice.
The following employee reward programs may help you decide which options to use.
Paper-Based Points Program
A paper-based type of reward program is the lowest cost solution - but involves more work for the administrator. If your award budget is small and you must keep the administrative costs to almost nothing, a paper based point awarding and tracking system may be your best option.

A program administrator awards points and manually tracks point balances for each participant. Points are redeemed for awards selected from printed catalogs, or online catalogs provided by Select-Your-Gift. Award redemption requests must be approved by the administrator prior to fulfillment. Redeemed awards are sent directly to the employee's home. More on paper-based points
Online Points Program
With online types of reward programs, each participant is provided with an online point-bank account. Points are awarded as goals are completed.

With Select-Your-Gift's comprehensive points program, administrators can easily award points for specific performance-based goals, safety achievements, attendance at training sessions, Years of Service Milestones, Sales Contests, peer-to-Peer recognition, birthdays, holiday gifts, and much more. One Platform for all your employee recognition with enterprise-wide consistency.

A large online rewards catalog of popular and name brand products is included for point redemptions with this type of reward program. The program's software will track their points as they are earned and spent.

The online program can be setup to include hierarchy to reflect your organization's structure. A budget manager is provided to help track and control spend by location or department.

Communication tools provide many ways to inform and promote your program to the participants. And, with the included real time reporting, you can always see your incentive program's progress and return on investment. More on Online Points Programs
No matter which of these options you choose for your employee reward program, Select-Your-Gift can help you create a program that can motivate and inspire your people.