Onboarding Employees - Defined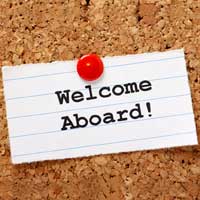 What is employee onboarding? The onboarding process is also defined as organizational socialization.
It refers to how new employees acquire the necessary knowledge, skills, and behaviors to become effective organizational members and insiders.
When onboarding new employees, an effective strategy begins with the process of hiring, and continues with welcoming and orienting the new employees, plus the introduction of your culture of engagement, values and appreciation.
What is the VALUE of a well-defined Onboarding plan for new hires:
Quickly removes the mystery of the new company, job, work space, peers
Helps new hires feel welcomed, valued, informed, and prepared for their new position
It's an effective way to promote positive attitudes and work habits
Instills a sense of belonging to a organization that cares about them
Increases employee retention
When an new employee feels informed, prepared, and supported, they develop a sense of trust in their manager and team. Employee engagement is a key driver in workplace productivity.
Successfully engage employees by formulating a strategic onboarding process for your company's newest members. It's one of the best times and best ways to initiate and cultivate your relationship with new talent, establishing a bond between management and employees at a crucial stage in their employment.
Today's workers want to know, from the very start of their employment, that their new employer appreciates them and their contributions to the company.
Employee onboarding programs along with a comprehensive Employee Recognition program creates more engaged employees - who are more innovative and productive.
Explore the many great Employee Recognition programs that are easy to start and easy to use.