4 Key Drivers of Employee Engagement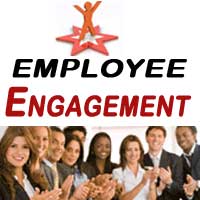 Employee Engagement levels significantly affect almost every measure of an organization's success.
Research and countless studies clearly and consistently show the direct link between an organization's success and the Engagement level of its employees.
With all of this proof regarding the value and benefits of higher employee engagement, is your company ready to make improving engagement a high priority?
Here's some employee engagement tips to get started.
First, Assess current employee engagement levels.
When measuring employee engagement, there are many assessment methods. One example is Engagement Surveys offered by SurveyMonkey (and others), which allow you to ask each employee key questions. Survey results can be saved and compared to follow-up surveys to monitor your efforts to improve engagement.

There are also low-cost Do-it-Yourself methods such as the one described in this PeoriaMagazines article.

I like this do-it-yourself option, especially for small to medium size companies, as the cost is minimal (to none), and the results of the evaluation are available quickly.

When assessing employee engagement, there is a big difference between asking:

Are your employees engaged?
Are your employees satisfied with their jobs?

Satisfied Employees: Employees can be satisfied with many things about their job. They may be satisfied with their pay and benefits, their work hours, their workplace, and even their managers. Being satisfied does not mean they are engaged.

Engaged Employees: Engaged employees are committed and have an emotional connection to your company. They'll seek ways to make improvements, often going above and beyond what is normally required, in order to make a difference. They want to succeed in their job, and they want the organization to succeed.

Engaged employees consistently outperform their peers who are not engaged.
To improve your engagement levels (and every organization can benefit from improved levels), your challenge is to decide what actions must be taken to drive better employee engagement, and which will have the biggest impact.
In the United States, the Top 4 Key Drivers of Employee Engagement are:
1. Employee Recognition:
One of the top drivers of employee engagement has consistently been recognition. Recognition is a great form of communication, and tells employees that you noticed and appreciated them. Use this employee engagement tip and know that when employees feel valued and appreciated, they will be more motivated to work harder and overall productivity increases. The most engaged employees are the most motivated, and you can improve motivation through frequent recognition.

Employee recognition represents an acknowledgement of an employee's milestone or achievement, and is often done publically, and usually includes an award.

Some of the most popular types of employee recognition include:

Attendance Awards
Customer Service Awards
Employee of the Month or Year
Retirement Awards
Suggestion Program Awards
Peer to Peer Recognition Program
Performance Recognition
Sales Contests and Awards

An employee engagement tip is to help create a highly engaged workforce. Organizations will include many types of recognition in their ongoing employee recognition strategy.

To manage all your rewards and recognition initiatives, use this employee engagement tip and consider a comprehensive, online points-based platform that's flexible and scalable. Using such a platform provides enterprise-wide consistency, yet allows local-level rewarding options. These systems can easily automate Corporate Service Awards, Birthdays, and even employee Holiday Gifts.
2. Job Design, Responsibilities, and Tasks:
Another driver of employee engagement is knowing that today, job design is a critical factor to having highly engaged employees. Most employees want jobs that will challenge them, make good use of their skills, have some variability, and makes a contribution to the company and to the world. To design efficient, cost-effective jobs that will also maximize the employee's level of engagement, jobs must be defined so they can be done reliably, efficiently and safely, while allowing for individual satisfaction, personal growth, social interaction, and a sense of achievement.

Use these employee engagement tips and remember that jobs that are simple, repetitive and focused only on production numbers will lead to dissatisfied and disengaged employees.
3. Provide for Personal and Career Development Opportunities:
Providing personal development opportunities are essential for highly engaged employees. Employees often view their personal growth goals as important as the company's goals. They want to enhance their skills, or learn new ones that will help them further their careers. If there is a lack of personal growth opportunities, employees will begin looking for work elsewhere.

To help employees enhance their skills, offer job shadowing, or a mentoring program so junior employees can learn from more experienced staff, getting guidance and insights into the job and the organization. Start using this employee engagement tip today.

Other opportunities could include onsite skills training, tuition assistance for continuing education, and special courses such as leadership development. When employees understand that these personal development opportunities are directly linked to your company's strategic goals, they will feel more connected and engaged. Use these drivers of employee engagement!
4. Corporate Strategy, Mission, and Open Communications:
Another driver of employee engagement is knowing that open communications, with regular meetings, helps employees understand your corporate strategy, mission and goals. Consistent and honest communications, during good and not-so-good times, will help management gain employee trust and respect.

Employees want to know and clearly understand how their jobs contribute to the success of the organization, and how their roles fit into the big picture. Using these employee engagement tips will help them understand what is expected of them, and why that's important to the success of the company.

In these meetings, ask for employee feedback. Record their comments and suggestions, then review each and take action when appropriate. Talk about your actions in later meetings to show that you're listening and care about their feedback.
Select-Your-Gift Employee Recognition can help!
Let us show you how we can help your organization improve Employee Engagement through Employee Recognition. Using these drivers of employee engagement, start with a single recognition component, such as Service Anniversary Awards, or implement a company-wide, comprehensive Employee Recognition strategy using our online Employee Engagement Points-based Platform.

Our online points-based platform can easily incorporate many incentive and recognition elements, creating an easy-to-use, fun and motivating experience for your employees. Include point-awards for: Completing your On-Boarding program, Years of Service Awards, Peer-to-Peer Recognition, Employee gifts for Birthdays and Holiday, Sales Contests, and many others.